(Celebrating our 23rd anniversary linking buyers and sellers)
Welcome to SoundBroker.com's Direct 2 Seller store. Items listed here can be bought and sold directly between buyers and sellers without SoundBroker.com's involvement thus eliminating our fees and saving you money. URGENT NOTICE: Buying using this service you take all risks related to buying or selling these items. In order to limit your risk, for a 10% fee (Fee Schedule), you can opt into SoundBroker.com's Secure Transaction Service whereas you pay SoundBroker.com for the item and we'll hold onto the money for the seller until the transaction is complete or click on the link below to return to SoundBroker.com and purchase the item using our normal methods.
Fee Schedule
•
Disclaimer
ID # 97401 DIRECT TO SELLER CURRENT CATEGORY - PROCESSING
For Sale: PRESONUS ACP88
[PRICE SHOWN FOR THE ENTIRE CONTENT OF THIS LISTING]
Listing last update on April 25, 2017 - Viewed 1646 times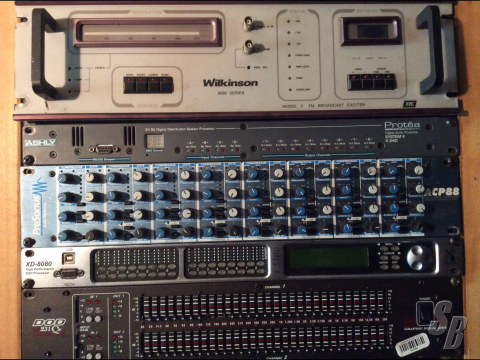 /
Click on thumbnail to enlarge
PRESONUS ACP88

PRESONUS ACP88 (YOM: ??) (S#: ??) GOOD (7-8)

FEATURES: PRESONUS EIGHT CHANNEL COMPRESSOR/LIMITER/GATE.

EXTRAS: THIS UNIT COMES WITH ONE IEC CABLE

MODIFICATIONS: NO MODS.

HISTORY: THIS UNIT WAS USED FOR LIVE PRODUCTION IN AN IN-HOUSE SETTING; IT HAS NOT TOURED.

COMMENTS: THIS UNIT HAS SOME DIRTY POTS.

THIS UNIT WAS NEVER TOURED

PLEASE NOTE: THE SELLER'S ASKING PRICE MAKES THIS LISTING ELIGIBLE FOR OUR VIP-LOYALTY CLUB, DIRECT SALES PROGRAM. IN ORDER TO SAVE YOU MONEY, THIS ITEM CAN ONLY BE PURCHASED AS A VIP MEMBER DIRECTLY FROM THE SELLER.

$275.00 IS THE EXACT AMOUNT THE SELLER IS ASKING.


VIP LOYALTY CLUB, DIRECT TO SELLER / DIRECT TO BUYER MEMBERSHIP INCLUDES:

* UNLIMITED USE OF THE DIRECT CLUB (THE SMORGASBORD OF SAVINGS)

* ALL GOLD MEMBER BENEFITS
* 3 FREE LISTING UPGRADES TO A PLAN D (VALID FOR TERM OF MEMBERSHIP YEAR)
* ABILITY TO MAKE LOWER PRICE OFFERS
* EXCLUSIVE DISCOUNT PRICING ON A & B-STOCK, DEMO & REP SAMPLES *
* FIRST PRIORITY "GEAR WE NEED" NEWSLETTER AND WEBSITE ACCESS **
* NO FEES CHARGED ON YOUR UNDER $2,500.00 DIRECT CLUB LISTINGS
* SAVINGS OF $150 OFF SELECTED USED ITEMS PURCHASED DIRECTLY FROM THE SELLER
* FREE BANK CHECK OR ACH VENDOR PAYMENTS ($10 SAVINGS)
* EXCLUSIVE SPECIALS - ADDITIONAL DISCOUNTS ON SELECTED MANUFACTURER'S
* THE ABILITY TO USE OUR ONLINE AND SECURE PERSONALIZED "SHOPPING CART"
* PRIORITY RESPONSES TO ALL REQUESTS FOR INFORMATION
* ALL YOUR LISTINGS ARE IN BOLD TYPE AND IN FIRST POSITION OF CATEGORY
* PRIORITY ACCESS TO SOUNDBROKER.COM'S MOST CURRENT INFORMATION & LISTINGS
* DIRECT COMMUNICATION BETWEEN THE BUYER AND SELLER WHEN APPLICABLE
* ACCESS TO SOUNDBROKER.COM'S SECURE TRANSACTION SERVICE
* SOUNDBROKER.COM'S LOGISTIC SERVICES: DISCOUNTED SHIPPING PRICES, TRACKING, SHIPPING QUOTES
* ADVANCE COPY OF WEEKLY NEWSLETTER ON SATURDAY
* SOLD PRICE INFORMATION
* ADVANCE LISTING NOTIFICATION

PLEASE NOTE: AS MEMBERSHIP IN VIP GROWS, THERE WILL BE ADDITIONAL BENEFITS ADDED

* MANUFACTURER'S A-STOCK IS ONLY AVAILABLE TO DOMESTIC USA MEMBERS
** BEST WAY TO FIND WHAT YOU ARE LOOKING FOR; VIP WANTED LISTING RUNS FOR 7 DAYS


WWW.SOUNDBROKER.COM LINKING BUYERS AND SELLERS TOGETHER SINCE 1997 FOR NEW AND USED PROFESSIONAL AUDIO, LIGHTING, STAGING, PROJECTORS, AND VIDEO EQUIPMENT.
ID#:
DS97401
Listing Type:
Direct Discount Available
Model:
ACP88
Manufacturer:
PRESONUS
Condition:
GOOD (7-8)
Shipping Info:
0.00 lbs.,
Seller's Location:
ON, Canada
Updated:
April 25, 2017
M.S.R.P.:
$0.00
Offered at:

$425.00


Login to Purchase
PLEASE NOTE: VIP-LOYALTY CLUB MEMBERS MAY HAVE THE OPTION TO BUY THIS DIRECTLY FROM THE SELLER FOR $275.00
SEE DETAILS
PLEASE NOTE: THE SELLER'S ASKING PRICE MAKES THIS LISTING ELIGIBLE FOR OUR VIP-LOYALTY CLUB, DIRECT SALES PROGRAM. IN ORDER TO SAVE YOU MONEY WE PREFER THAT YOU PURCHASE THIS AS A VIP MEMBER DIRECTLY FROM THE SELLER.

$275.00 IS THE EXACT AMOUNT THE SELLER IS ASKING (Please add $150 per item or 15% of the total whichever is greater if you go through SoundBroker.com)
To purchase or list using the services of SoundBroker.com, you must be a member of SoundBroker.com and agree to our terms and conditions. If you are a VIP-Loyalty Club Member and feel a listing is priced too high, please contact us to make a fair counteroffer (unfortunately, due to the nature of the economy, SoundBroker.com does not accept low offers from our Gold Members). Click here for details on becoming a VIP-Loyalty Club Member.

All listings on SoundBroker.com are subject to change &/or cancellation without notice. All items listed are pre-owned and priced per unit unless noted in the description. SoundBroker.com reserves the right to accept or decline any listing or purchase.
---