GENERIC CUSTOM BUILT STAGE 28' BY 20'
GENERIC CUSTOM-BUILT STAGE 28' BY 20' (YOM: 2011 - VIN: TBD)
THE SIZE IS 28' BY 20' SET UP WITH 13' FROM THE DECK TO THE BOTTOM OF THE TRUSS.
THE TRAVEL SIZE IS 36' FROM THE COUPLER TO THE BACK BUMPER, 12' 4" HIGH, AND 101" WIDE.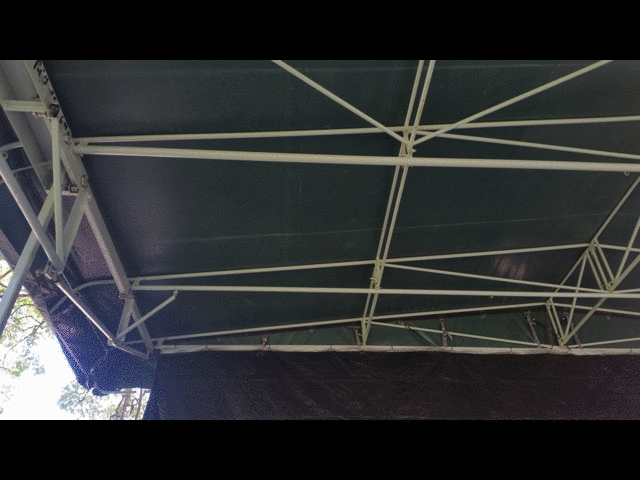 DESCRIPTION:
1 SET OF ADJUSTABLE STAIRS.
THE ROOF ROLLS OUT AND PINS IN PLACE.
HANDRAILS FOR THE BACK AND SIDES,
NEW TIRES IN 2021, LESS THAN 300 MILES ON THEM (1 SHOW).
AXLES WERE 7K EACH
IT PULLS NICE WITH A 3/4T PICKUP IF USING THE GOOSENECK.
A BUMPER HITCH IS ALSO INCLUDED
THE ROOF IS COVERED BY AN 18 OZ. GREEN VINYL COVER.
WE RAISE THE ROOF AND LOWER THE DECKS WITH WINCHES.
ROOF WINCHES ARE POWERED WITH A MILWAUKEE SUPER HOG DRILL.
EXTRA:
WE HAVE 10 EXTRA DECKS THAT GO WITH IT WITH ENOUGH EXTRA HANDRAILS TO ACCOMMODATE.
ADDITIONAL SELLER COMMENTS: THERE ARE NO ENGINEERING DRAWINGS
I WOULD DO ONE TRAINING SESSION HERE IF THEY PICKED IT UP.
I COULD DELIVER IT NATIONWIDE AND DO TRAINING ON THEIR SITE. (COST TBD)
WWW.SOUNDBROKER.COM LINKING BUYERS AND SELLERS TOGETHER SINCE 1997 FOR NEW AND USED PROFESSIONAL AUDIO, LIGHTING, STAGING, PROJECTORS, AND VIDEO EQUIPMENT.