(Celebrating our 26th anniversary linking buyers and sellers)
Welcome to SoundBroker.com's Direct 2 Seller store. Items listed here can be bought and sold directly between buyers and sellers without SoundBroker.com's involvement thus eliminating our fees and saving you money. URGENT NOTICE: Buying using this service you take all risks related to buying or selling these items. In order to limit your risk, for a 10% fee (Fee Schedule), you can opt into SoundBroker.com's Secure Transaction Service whereas you pay SoundBroker.com for the item and we'll hold onto the money for the seller until the transaction is complete or click on the link below to return to SoundBroker.com and purchase the item using our normal methods.
Fee Schedule
•
Disclaimer
ID # 152621 DIRECT TO SELLER CURRENT CATEGORY - SPEAKERS/SUBWOOFER
For Sale: 5 CORE SUBWOOFER SPEAKER/15" PA DJ WOOFER 2200W PMPO
[PRICED PER UNIT - 30 AVAILABLE AT TIME OF LISTING]
Listing last update on August 30, 2023 - Viewed 49 times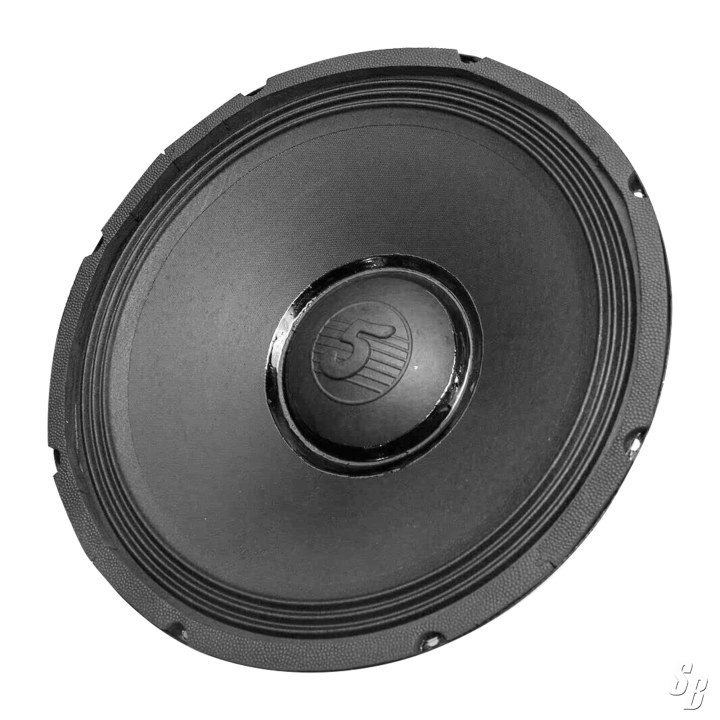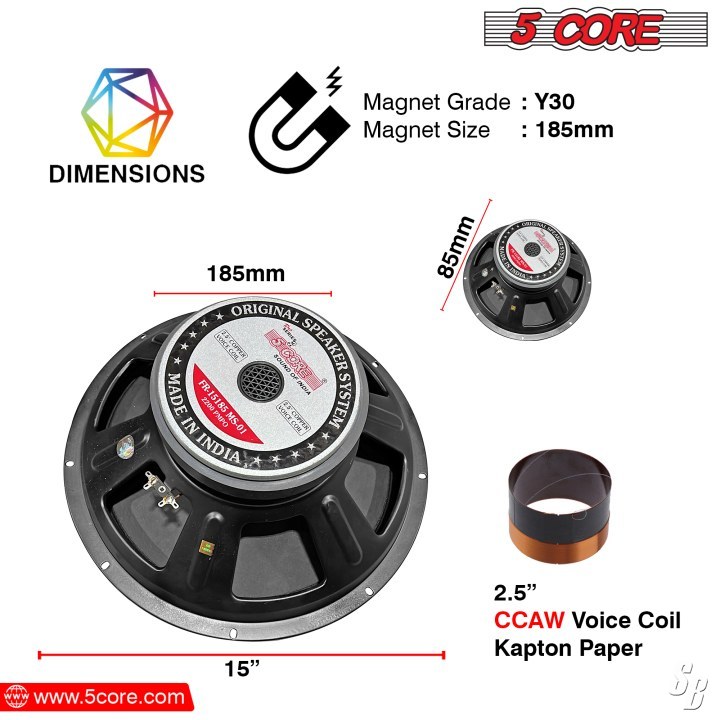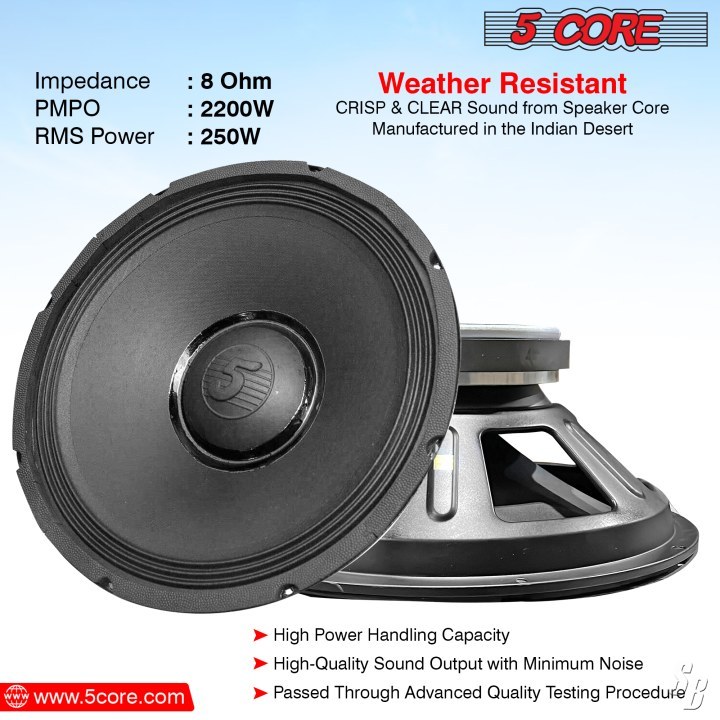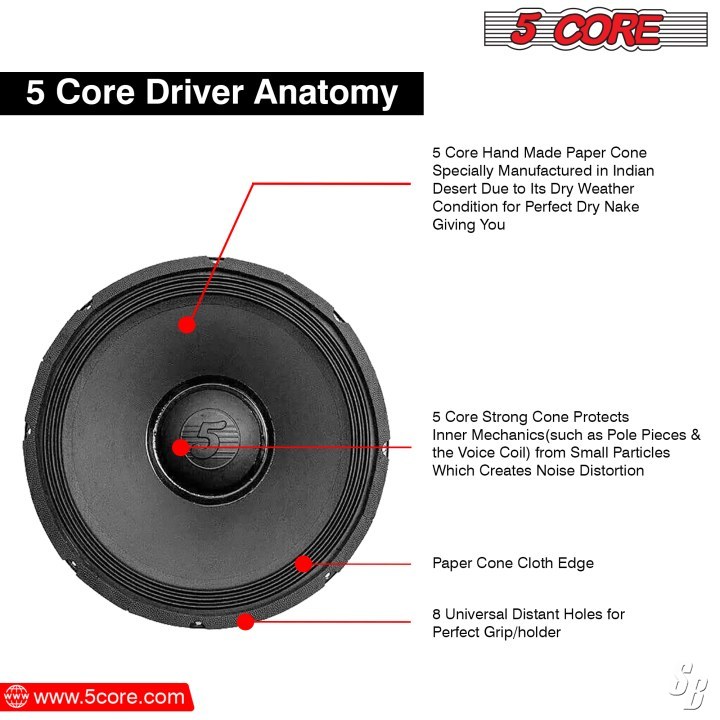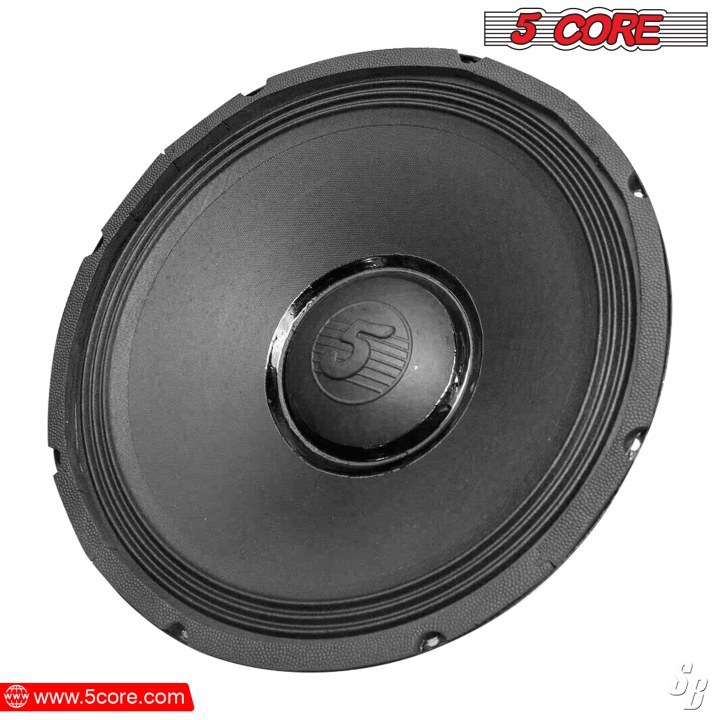 /
Click on thumbnail to enlarge
5 CORE SUBWOOFER SPEAKER/15" PA DJ WOOFER 2200W PMPO
5 CORE 15-185 MS 250W (YOM: 2023) (S#: "TBD") D2S/B NEW W/ WARRANTY FEATURES:
GET READY TO TAKE YOUR AUDIO EXPERIENCE TO THE NEXT LEVEL WITH THE 5 CORE SUBWOOFER- THE LATEST SERIES OF SPEAKERS DESIGNED FOR SUPERIOR SOUND QUALITY AND HIGH PERFORMANCE. WITH AN EYE-CATCHING DESIGN AND A HIGH-QUALITY PP CONE, THIS 15 INCH MODEL OFFERS PLENTY OF STIFFNESS WITHOUT ADDED WEIGHT, DELIVERING UNBEATABLE SOUND CLARITY THAT WILL BLOW YOUR MIND.
PREMIUM SOUND: 5 CORE HIGH POWER PA DJ SUBWOOFER WITH 2200 WATTS MAX POWER AND 250 WATTS RMS POWER ADDS A NEW DIMENSION TO YOUR AUDIO EXPERIENCE.


EASY INSTALL: FOAM EDGE SUSPENSION WITH BUMP-VENTED MOTOR STRUCTURE AND A DURABLE BASKET KEEPS EQUIPMENT SAFE AND MAKES INSTALLATION EASY.


VOICE COIL: THE SUBWOOFER SPEAKER FEATURES A 2.5 CCAW COPPER VOICE COIL THAT RESISTS CORROSION AND THUS PROLONGS THE LIFESPAN OF THE SPEAKER.


DURABLE: THE STAMPED SUBWOOFER BASKET ABSORBS THE TRANSFER ENERGY, HAS CORROSION RESISTANCE, MECHANICAL PROPERTIES, HIGH CONDUCTIVITY, AND RETAINS STRENGTH AT HIGH TEMPERATURES.

PRODUCT DESCRIPTION

INTRODUCING 5 CORE HIGH-PERFORMANCE SUBWOOFER SPEAKERS, DESIGNED TO TAKE YOUR AUDIO EXPERIENCE TO THE NEXT LEVEL! WITH MAXIMUM POWER OF 2200W AND RMS POWER OF 250W, THIS SUBWOOFER DELIVERS DEEP, RICH BASS THAT WILL SHAKE THE FOUNDATION OF ANY AUDIO SYSTEM.

ULTRA-STIFF CONES, THICKER AND STRONGER THAN OTHER WOOFER SPEAKERS, ALLOW IT TO HANDLE MORE POWER WITH A THICK FOAM SURROUND THAT PROVIDES INCREDIBLE SOUND QUALITY WITH MINIMAL DISTORTION AND THE HIGHEST GRADE BLACK GLUE THAT CAN HANDLE EXTREMELY HIGH TEMPERATURES. UPGRADE YOUR AUDIO SYSTEM TODAY AND EXPERIENCE THE POWER OF THE 5 CORE 15 INCH 8 OHM SUBWOOFER.

PRODUCT SPECIFICATIONS

15-INCH 8 OHM VOICE COIL CONFIGURATION.
RMS POWER: 250 WATTS.
PEAK POWER: 2200 WATTS.
PP CONE WITH RUBBER EDGE.
HIGH ROLL FOAM SURROUND.
ADVANCED AIR FLOW COOLING SYSTEM.
2.5" CCAW COPPER VOICE COIL.
185MM MAGNET.
EXTRAS:
NO
MODIFICATIONS:
NO
HISTORY:
NO
COMMENTS:
NO
THIS UNIT WAS NEVER TOURED
ID#:
DS152621
Listing Type:
Direct Discount Available
Model:
15-185 MS 250W
Manufacturer:
5 CORE
Condition:
D2S/B NEW W/ WARRANTY
Shipping Info:
16.40 lbs., 16.0*16*8
Seller's Location:
OH, USA
Updated:
August 30, 2023
M.S.R.P.:
$54.99
Offered at:

$54.99


Login to Purchase
PLEASE NOTE: THE SELLER'S ASKING PRICE MAKES THIS LISTING ELIGIBLE FOR OUR VIP-LOYALTY CLUB, DIRECT SALES PROGRAM. IN ORDER TO SAVE YOU MONEY WE PREFER THAT YOU PURCHASE THIS AS A VIP MEMBER DIRECTLY FROM THE SELLER.

$54.99 IS THE EXACT AMOUNT THE SELLER IS ASKING (Please add $150 per item or 15% of the total whichever is greater if you go through SoundBroker.com)
To purchase or list using the services of SoundBroker.com, you must be a member of SoundBroker.com and agree to our terms and conditions. If you are a VIP-Loyalty Club Member and feel a listing is priced too high, please contact us to make a fair counteroffer (unfortunately, due to the nature of the economy, SoundBroker.com does not accept low offers from our Gold Members). Click here for details on becoming a VIP-Loyalty Club Member.

All listings on SoundBroker.com are subject to change &/or cancellation without notice. All items listed are pre-owned and priced per unit unless noted in the description. SoundBroker.com reserves the right to accept or decline any listing or purchase.
---