(Celebrating our 23rd anniversary linking buyers and sellers)
MEYER GALILEO LOUDSPEAKER MANAGEMENT SYSTEM - GALILEO 616 PROCESSOR
[PRICED PER UNIT - 1 AVAILABLE AT TIME OF LISTING]
Listing last update on March 28, 2013 - Viewed 705 times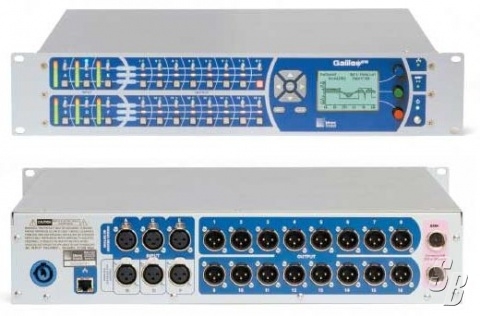 MEYER GALILEO LOUDSPEAKER MANAGEMENT SYSTEM - GALILEO 616 PROCESSOR
[PRICED PER UNIT - 1 AVAILABLE AT TIME OF LISTING]



B-STOCK- MEYER GALILEO LOUDSPEAKER MANAGEMENT SYSTEM - GALILEO 616 PROCESSOR- DIGITAL LOUDSPEAKER MANAGEMENT SYSTEM. 6-INPUT, 16-OUTPUT DIGITAL PROCESSOR. INCLUDES COMPASS CONTROL SOFTWARE.



DESIGNED AS THE PERFECT COMPLIMENT TO MEYER SOUND'S SELF-POWERED LOUDSPEAKERS, THE GALILEO LOUDSPEAKER MANAGEMENT SYSTEM IS A HARDWARE/SOFTWARE SYSTEM PROVIDING ALL OF THE FACILITIES REQUIRED TO DRIVE AND ALIGN SOUND REINFORCEMENT SYSTEMS EMPLOYING MULTIPLE ZONES. THE SYSTEM CONSISTS OF THE GALILEO 616, A SIX-INPUT, 2U, FULLY DIGITAL MATRIX PROCESSOR AND COMPASS SOFTWARE FOR COMPREHENSIVE CONTROL OF THE GALILEO 616 THROUGH A GRAPHICAL ENVIRONMENT RUNNING ON A REMOTE COMPUTER. GALILEO 616 CAN ALSO BE CONTROLLED DIRECTLY FROM ITS FRONT PANEL FOR MAXIMUM FLEXIBILITY.

CLICK HERE FOR SPECS



B-STOCK WITH FULL MANUFACTURER'S WARRANTY, FOB CA, USA.
| | |
| --- | --- |
| ID#: | 67767 |
| Listing Type: | Standard |
| Model: | GALILEO616 |
| Manufacturer: | MEYER SOUND |
| Condition: | MFG B STOCK |
| Shipping Info: | 0.00 lbs., |
| Seller's Location: | CA, USA |
| Updated: | March 28, 2013 |
| M.S.R.P.: | $0.00 |
| Asking Price: | SOLD |
To purchase or list using the services of SoundBroker.com, you must be a member of SoundBroker.com and agree to our terms and conditions. If you are a VIP-Loyalty Club Member and feel a listing is priced too high, please contact us to make a fair counteroffer (unfortunately, due to the nature of the economy, SoundBroker.com does not accept low offers from our Gold Members). Click here for details on becoming a VIP-Loyalty Club Member.

All listings on SoundBroker.com are subject to change &/or cancellation without notice. All items listed are pre-owned and priced per unit unless noted in the description. SoundBroker.com reserves the right to accept or decline any listing or purchase.
---