(Celebrating our 25th anniversary linking buyers and sellers)
Welcome to SoundBroker.com's Direct 2 Seller store. Items listed here can be bought and sold directly between buyers and sellers without SoundBroker.com's involvement thus eliminating our fees and saving you money. URGENT NOTICE: Buying using this service you take all risks related to buying or selling these items. In order to limit your risk, for a 10% fee (Fee Schedule), you can opt into SoundBroker.com's Secure Transaction Service whereas you pay SoundBroker.com for the item and we'll hold onto the money for the seller until the transaction is complete or click on the link below to return to SoundBroker.com and purchase the item using our normal methods.
Fee Schedule
•
Disclaimer
ID # 120771 DIRECT TO SELLER CURRENT CATEGORY - RECORDING STUDIO
For Sale: TASCAM MD-350 MINIDISC RECORDER
[PRICED PER UNIT - 1 AVAILABLE AT TIME OF LISTING]
Listing last update on March 04, 2020 - Viewed 65 times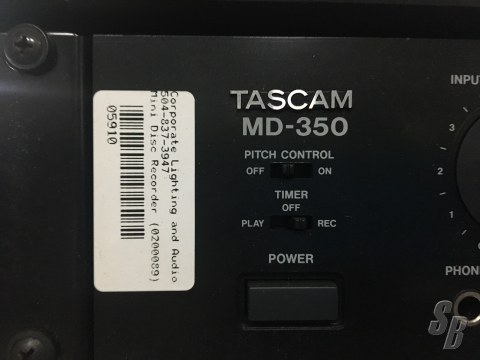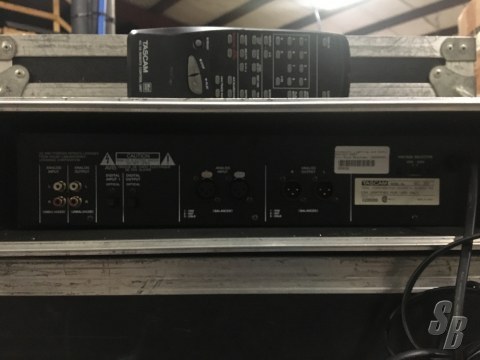 /
Click on thumbnail to enlarge
TASCAM MD-350 MINIDISC RECORDER
TASCAM MD-350 (YOM: ?) (S#: TBD) GOOD (7-8) FEATURES:
THE MD-350 IS THE LATEST ADDITION TO TASCAM'S LINE, OFFERING AN AFFORDABLE MD WITH ADVANCED PERFORMANCE FUNCTIONS. THE MD-350 IS THE BEST VALUE FOR LIVE VENUES, HOUSES OF WORSHIP, OR BUDGET-CONSCIOUS BROADCASTERS.
THE MD-350 INCORPORATES THE LATEST ADVANCEMENTS IN MD TECHNOLOGY. THE LATEST ATRAC ENCODING SCHEME (VERSION 3) IS IMPLEMENTED, OFFERING NEW LONG PLAY VERSIONS WITH UP TO 320 MINUTES OF RECORD TIME ON A STANDARD 80 MINUTE MINIDISC. A FRONT PANEL PS/2 KEYBOARD PORT ALLOWS INTUITIVE CONTROL OVER EDITING THE MINIDISC'S TOC (TABLE OF CONTENTS) AND NAMING TRACKS.

A COMPLETE HOST OF AUDIO I/O MAKES INTEGRATING THE MD-350 INTO ANY SYSTEM EASY. BALANCED AND UNBALANCED ANALOG PORTS ARE AVAILABLE, AS WELL AS DIGITAL OPTICAL PORTS. A FRONT PANEL OPTICAL PORT CAN BE USED TO CONNECT PORTABLE PLAYERS DIGITALLY WITHOUT CRAWLING BEHIND THE MACHINE RACK.

PITCH CONTROL FUNCTION IS AVAILABLE ON THE MD-350, WITH A CLEAR ON/OFF SWITCH ON THE FRONT PANEL. PLUS, A FEW CUEING FUNCTIONS HAVE BEEN ADDED, MAKING SOUND CUES EASIER FOR LIVE SITUATIONS:

- AUTO CUE POSITIONS THE MACHINE TO THE FIRST AUDIO IN A MD TRACK, RATHER THAN THE ACTUAL ID LOCATION. THIS ELIMINATES DEAD SPACE IN THE BEGINNING OF THE TRACK, ALLOWING TIGHTER CUES FOR LIVE SHOWS OR ON-AIR ENVIRONMENTS.

- AUTO READY PAUSES THE MACHINE AT EACH TRACK ID. THIS IS IDEAL FOR LIVE ENVIRONMENTS, ALLOWING THE ENGINEER TO CUE IN ONE TRACK AND FORGET ABOUT THE MACHINE - IT AUTOMATICALLY SETS ITSELF AT THE NEXT CUE. THIS IS IDEAL SINCE THIS ALSO PREVENTS THE MACHINE FROM ACCIDENTALLY ROLLING INTO THE NEXT CUE ON THE MD.

THE RC-32 WIRELESS REMOTE IS INCLUDED WITH THE MD-350.
EXTRAS:
COMES WITH ROAD CASE
MODIFICATIONS:
NONE
HISTORY:
SELDOM EVER USED
COMMENTS:
NONE
THIS UNIT WAS NEVER TOURED
WWW.SOUNDBROKER.COM LINKING BUYERS AND SELLERS TOGETHER SINCE 1997 FOR NEW AND USED PROFESSIONAL AUDIO, LIGHTING, STAGING, PROJECTORS, AND VIDEO EQUIPMENT.
ID#:
DS120771
Listing Type:
Direct Discount Available
Model:
MD-350
Manufacturer:
TASCAM
Condition:
GOOD (7-8)
Shipping Info:
0.00 lbs.,
Seller's Location:
LA, USA
Updated:
March 04, 2020
M.S.R.P.:
$0.00
Offered at:

Login to Purchase
PLEASE NOTE: VIP-LOYALTY CLUB MEMBERS MAY HAVE THE OPTION TO BUY THIS DIRECTLY FROM THE SELLER FOR $150.00
SEE DETAILS
PLEASE NOTE: THE SELLER'S ASKING PRICE MAKES THIS LISTING ELIGIBLE FOR OUR VIP-LOYALTY CLUB, DIRECT SALES PROGRAM. IN ORDER TO SAVE YOU MONEY WE PREFER THAT YOU PURCHASE THIS AS A VIP MEMBER DIRECTLY FROM THE SELLER.

$150.00 IS THE EXACT AMOUNT THE SELLER IS ASKING (Please add $150 per item or 15% of the total whichever is greater if you go through SoundBroker.com)
To purchase or list using the services of SoundBroker.com, you must be a member of SoundBroker.com and agree to our terms and conditions. If you are a VIP-Loyalty Club Member and feel a listing is priced too high, please contact us to make a fair counteroffer (unfortunately, due to the nature of the economy, SoundBroker.com does not accept low offers from our Gold Members). Click here for details on becoming a VIP-Loyalty Club Member.

All listings on SoundBroker.com are subject to change &/or cancellation without notice. All items listed are pre-owned and priced per unit unless noted in the description. SoundBroker.com reserves the right to accept or decline any listing or purchase.
---