(Celebrating our 26th anniversary linking buyers and sellers)
JOECOE BLACK BOX MADI
[PRICED PER UNIT - 2 AVAILABLE AT TIME OF LISTING]
Listing last update on April 11, 2014 - Viewed 49 times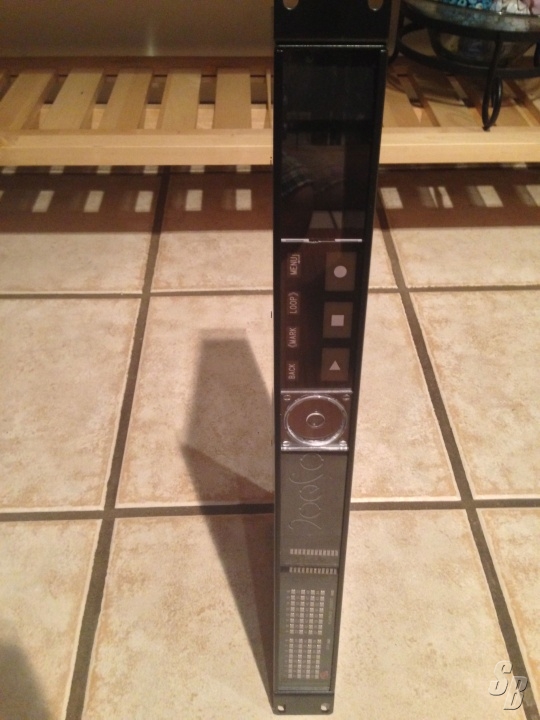 /
Click on thumbnail to enlarge
JOECOE BLACK BOX MADI
[PRICED PER UNIT - 2 AVAILABLE AT TIME OF LISTING]



JOECO BBR64-MADI (YOM: ?) (S#: TBD) LIKE NEW (9-10)

FEATURES: JOECOE BLACK BOX MADI RECORDER

EXTRAS: EACH UNIT COMES WITH A POWER SUPPLY

MODIFICATIONS: NON

HISTORY: THESE UNITS ARE NEVER USED.... ONE UNIT WAS TESTED A COUPLE TIMES

COMMENTS: THESE UNITS ARE NEW

THIS UNIT WAS NEVER TOURED

MFG COMMENTS:
HTTP://WWW.JOECO.CO.UK/MAIN/BBR_MODELS.HTML

BASED ON THE AWARD-WINNING, TRIED AND TESTED BLACKBOX RECORDER DESIGN, THE NEW BLACKBOX BBR64-MADI RECORDER IS DESIGNED TO RECORD AND REPLAY UP TO 64 CHANNELS OF MADI DATA AND YET STILL ONLY OCCUPIES ONE UNIT OF RACK SPACE! THE RECORDER CAN CAPTURE THE FULL 64 CHANNELS AT STANDARD SAMPLE RATES DIRECTLY TO BROADCAST WAV FILES ON AN EXTERNAL USB2 DRIVE. DOUBLE SAMPLE RATE MADI RECORDING (UP TO 96KHZ) IS ALSO ACCOMMODATED.

THE RECORDER SPORTS BOTH COAXIAL AND OPTICAL MADI CONNECTIONS FOR INTERFACING WITH ANY MADI EQUIPPED CONSOLE OR OTHER EQUIPMENT. ADDITIONALLY, THE BBR64-MADI CATERS FOR 56-CHANNEL LEGACY MADI AND CAN RECORD A FURTHER 8 CHANNELS OF ANALOGUE (BALANCED LINE IN) FOR CAPTURING THE AUDIENCE REACTION OR GENERAL AMBIENCE.

THE BBR64-MADI WILL LOCK TO OR GENERATE WORD CLOCK, AS WELL AS LOCKING TO THE RECEIVED MADI DATA STREAM. THE MADI INPUT IS ECHOED DIRECT TO THE OUTPUT TO EASE SYSTEM INTEGRATION. IN ADDITION TO THE PFL BUS PROVIDING BOTH HI-RESOLUTION METERING AND HEADPHONE MONITORING, AN ADDITIONAL 溺IX FEATURE HAS BEEN ADDED TO THE HEADPHONE OUTPUT.
| | |
| --- | --- |
| ID#: | 69913 |
| Listing Type: | Standard |
| Model: | BBR64-MADI |
| Manufacturer: | JOECO |
| Condition: | LIKE NEW (9-10) |
| Shipping Info: | 0.00 lbs., |
| Seller's Location: | IL, USA |
| Updated: | April 11, 2014 |
| M.S.R.P.: | $0.00 |
| Asking Price: | SOLD |
To purchase or list using the services of SoundBroker.com, you must be a member of SoundBroker.com and agree to our terms and conditions. If you are a VIP-Loyalty Club Member and feel a listing is priced too high, please contact us to make a fair counteroffer (unfortunately, due to the nature of the economy, SoundBroker.com does not accept low offers from our Gold Members). Click here for details on becoming a VIP-Loyalty Club Member.

All listings on SoundBroker.com are subject to change &/or cancellation without notice. All items listed are pre-owned and priced per unit unless noted in the description. SoundBroker.com reserves the right to accept or decline any listing or purchase.
---