JBL VT4886 SPEAKERS
28 EA. JBL VT4886 MID HIGH CABINETTES IN 6 ROAD CASES (COMES 6 EA. PER CASE) (YOM:2010-11) (SN:TBD)
SOLD ONLY IN LOTS OF 6 COMES WITH FREE ROAD CASE
COMMENTS: THE VT4886 SUBCOMPACT PASSIVE THREE-WAY LINE ARRAY ELEMENT IS DESIGNED TO DELIVER HIGH-QUALITY REINFORCEMENT OF MUSIC AND SPEECH IN A WIDE VARIETY OF APPLICATIONS INCLUDING CONCERT AUDIO AND CORPORATE A/V PRESENTATIONS OF ALL TYPES FOR BOTH PORTABLE USERS AND FIXED VENUE INSTALLATIONS.
THERE ARE 6 EA. JBL VT4886AF FLYWARE AVAILABE FOR ADDITIONAL PURCHASE
COMMENTS:
CORPORATE WORKED
WELL MAINTAINED
GOOD LOOKING
WORKING CONDITION
FOB - FL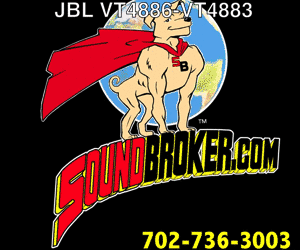 PLEASE NOTE: BY MAKING PAYMENT, BUYER REPRESENTS THAT BUYER IS KNOWLEDGEABLE HOW TO OPERATE ABOVE STATE FLY-WARE AND/OR RIGGING AND AGREES TO HOLD SOUNDBROKER.COM HARMLESS FROM ANY LIABILITY RESULTING FROM IT'S USE
SELLER ALSO HAS SUBS AND AMP RACKS CLICK HERE FOR ADDITIONAL DETAILS
WWW.SOUNDBROKER.COM LINKING BUYERS AND SELLERS TOGETHER SINCE 1997 FOR NEW AND USED PROFESSIONAL AUDIO, LIGHTING, STAGING, PROJECTORS, AND VIDEO EQUIPMENT.