(Celebrating our 26th anniversary linking buyers and sellers)
Welcome to SoundBroker.com's Direct 2 Seller store. Items listed here can be bought and sold directly between buyers and sellers without SoundBroker.com's involvement thus eliminating our fees and saving you money. URGENT NOTICE: Buying using this service you take all risks related to buying or selling these items. In order to limit your risk, for a 10% fee (Fee Schedule), you can opt into SoundBroker.com's Secure Transaction Service whereas you pay SoundBroker.com for the item and we'll hold onto the money for the seller until the transaction is complete or click on the link below to return to SoundBroker.com and purchase the item using our normal methods.
Fee Schedule
•
Disclaimer
ID # 157961 DIRECT TO SELLER CURRENT CATEGORY - MICROPHONES
For Sale: 5 CORE 2PCS DYNAMIC MICROPHONE W/ 12FT CABLE & MIC CLIP
[PRICED PER UNIT - 10 AVAILABLE AT TIME OF LISTING]
Listing last update on September 29, 2023 - Viewed 40 times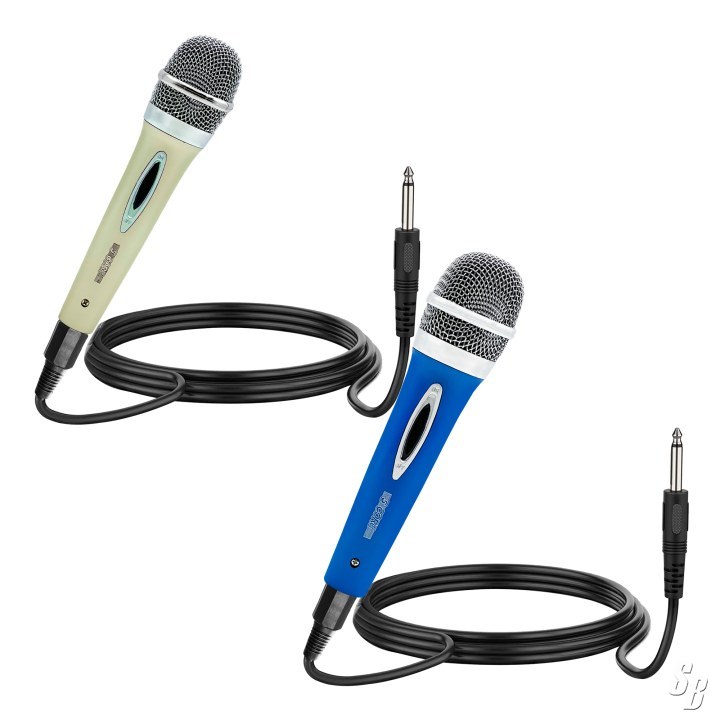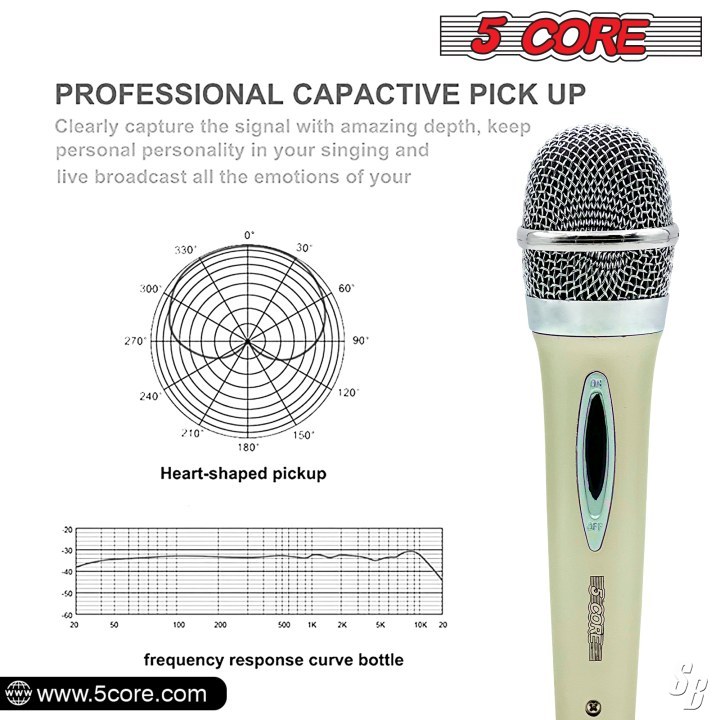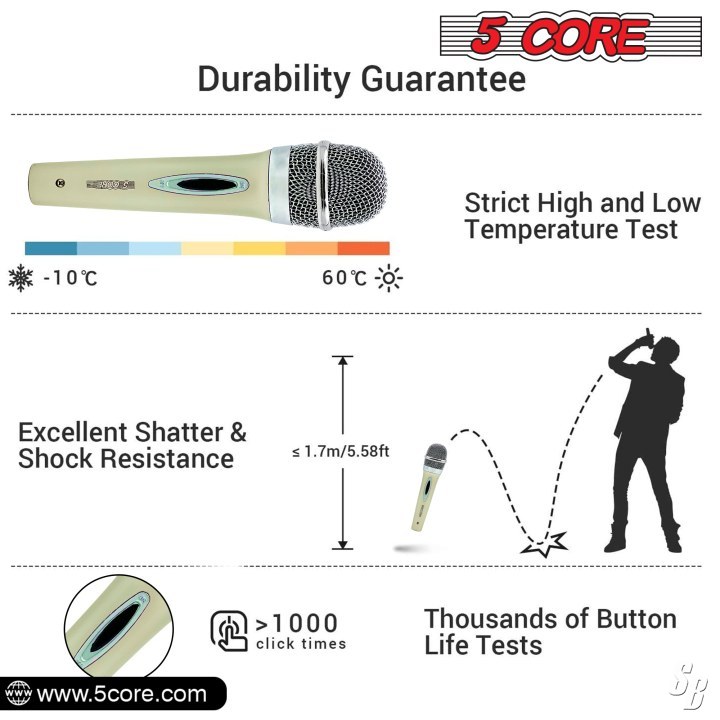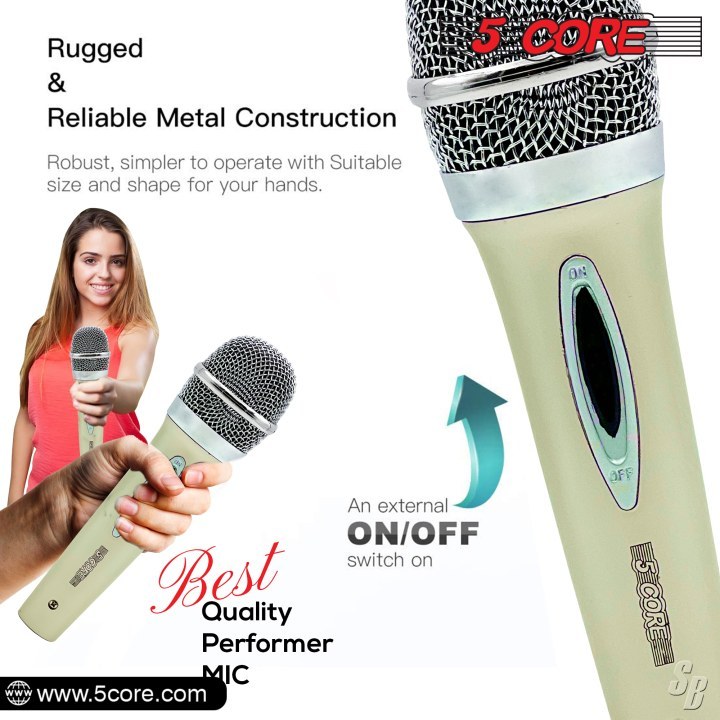 /
Click on thumbnail to enlarge
5 CORE 2PCS DYNAMIC MICROPHONE W/ 12FT CABLE & MIC CLIP
5 CORE (PM286WH+BLU)2PK (YOM: 2023) (S#: "TBD") D2S/B NEW W/ WARRANTY FEATURES:
DYNAMIC KARAOKE MIC: 5 CORE CARDIOID DYNAMIC MICROPHONE WITH XLR CORD, IDEAL FOR LIVE SITUATIONS NEEDING NOISE CANCELLATION, GREAT FOR PRESENTATIONS, WEDDINGS, CONFERENCES, PLACES OF WORSHIP, INTERVIEWS, AND SOLO PERFORMANCE.


UNIDIRECTIONAL: THE DYNAMIC MICROPHONE HAS A CARDIOID PICKUP PATTERN AND CAPTURES THE SOURCE SIGNAL WHILE MINIMIZING BACKGROUND NOISE AND FEEDBACK. THE DEDICATED ON/ OFF SWITCH MAKES IT EASIER TO CONTROL THE MIC.


CLARITY & CARE: THIS XLR MICROPHONE ACCURATELY CAPTURES EVERY NOTE AND DELIVERS A WARM CRISP SOUND EVERY TIME. YOU CAN RELY UPON THE DYNAMIC MICROPHONE TO REPRODUCE YOUR VOCALS EXACTLY AS THEY WERE INTENDED.


FREQUENCY RESPONSE: THE DYNAMIC MICROPHONE HAS AN ULTRA-WIDE FREQUENCY RESPONSE FOR BRILLIANT AND TRANSPARENT SOUND, WITH AN INTEGRATED POP FILTER AND WINDSCREEN TO MINIMIZE BREATH AND POP NOISE.


DURABLE CONSTRUCTION: OUR MICROPHONE HAS HIGH-QUALITY, RUGGED CONSTRUCTION FOR MAXIMUM RELIABILITY, FEATURING A STEEL MESH WINDSCREEN WITH ANTI-DENT RING PROTECTION.

DYNAMIC MICROPHONE DESCRIPTION:
INTRODUCING THE CARDIOID DYNAMIC MICROPHONE FOR SINGING AND PROFESSIONAL RECORDING, THE ONE MICROPHONE THAT CAN DO IT ALL! FEATURING A CARDIOID PICKUP PATTERN, THIS DYNAMIC MICROPHONE OFFERS SUPERIOR GAIN WHILE MINIMIZING FEEDBACK, MAKING IT PERFECT FOR ALL KINDS OF SITUATIONS WHERE NOISE CANCELLATION IS NEEDED. WHETHER YOU ARE PRESENTING AT A CONFERENCE, PERFORMING AT A WEDDING, OR SINGING SOLO ON STAGE, THIS KARAOKE MICROPHONE HAS GOT YOU COVERED.
TECHNICAL SPECIFICATIONS:
TYPE: DYNAMIC
COLOR: WHITE+ BLUE
POLAR PATTERN: CARDIOID
CONNECTION- XLR CABLE
PACKAGE INCLUDES:
2X DYNAMIC MICROPHONE
2X 12 FT XLR CABLE
BRAND NEW DIRECT FROM MANUFACTURER
WWW.SOUNDBROKER.COM LINKING BUYERS AND SELLERS TOGETHER SINCE 1997 FOR NEW AND USED PROFESSIONAL AUDIO, LIGHTING, STAGING, PROJECTORS, AND VIDEO EQUIPMENT.
| | |
| --- | --- |
| ID#: | DS157961 |
| Listing Type: | Direct Discount Available |
| Model: | (PM286WH+BLU)2PK |
| Manufacturer: | 5 CORE |
| Condition: | D2S/B NEW W/ WARRANTY |
| Shipping Info: | 0.15 lbs., 6.0*4*4 |
| Seller's Location: | OH, USA |
| Updated: | September 29, 2023 |
| M.S.R.P.: | $17.99 |
| Offered at: | Login to Purchase |
CONSUMER ALERT
Most users do not need a license to operate this wireless microphone system. Nevertheless, operating this microphone system without a license is subject to certain restrictions: the system may not cause harmful interference; it must operate at a low power level (not in excess of 50 milliwatts); and it has no protection from interference received from any other device.

Wireless microphone device that operate in portions of the 617-652 MHz or 663-698 MHz frequencies. Beginning in 2017, these frequencies are being transitioned by the Federal Communications Commission (FCC) to the 600 MHz service to meet increasing demand for wireless broadband services. Users of this device must cease operating on these frequencies no later than July 13, 2020. In addition, users of this device may be required to cease operations earlier than that date if their operations could cause harmful interference to a 600 MHz service licensee's wireless operations on these frequencies.

Purchasers should also be aware that the FCC is currently evaluating use of wireless microphone systems, and these rules are subject to change. For more information, call the FCC at 1-888- CALL-FCC (TTY: 1-888-TELL-FCC) or visit the FCC's wireless microphone website at www.fcc.gov/cgb/wirelessmicrophones.
To operate wireless microphone systems at power greater than 50mW, you must qualify as a Part 74 user and be licensed.

NOTE – This has not changed at all and has been in effect for over 20 years. If you qualify and wish to apply for a license go to:

http://www.fcc.gov/Forms/Form601/601.html

Look under BROADCAST AUXILIARY – Land Mobile (Part 74) You will need forms FCC 601 Schedule d and Schedule H

From the FCC docket 10-16 – Page 7 – (boldface has been added by us)

10. Under Section 74.832, only certain entities may be issued licenses authorizing the use of low power auxiliary stations. In particular, these entities fall within the following categories: (1) licensees of AM, FM, TV, or International broadcast stations or low power TV stations; (2) broadcast network entities; (3) certain cable television system operators; (4) motion picture and television program producers as defined in the rules; and (5) certain entities with specified interests in Broadband Radio Service (BRS) and Educational Broadcast Service (EBS) licenses, i.e., BRS licensees (formerly licensees and conditional licensees of stations in the Multipoint Distribution Service and Multi-channel Multipoint Distribution Service), or entities that hold an executed lease agreement with a BRS licensee or conditional licensee or entities that hold an executed lease agreement with an Educational Broadcast Service (formerly Instructional Television Fixed Service) licensee or permittee.25 Cable television operations, motion picture and television program producers may be authorized to operate low power auxiliary stations only in the bands allowed for TV broadcasting.26 All classes of broadcast auxiliary stations provided for in Subpart H, except wireless video assist devices (WVADs), may be operated on a short term basis under the authority conveyed by a Part 73 license or a broadcast auxiliary license without prior authorization, subject to conditions.
PLEASE NOTE: THE SELLER'S ASKING PRICE MAKES THIS LISTING ELIGIBLE FOR OUR VIP-LOYALTY CLUB, DIRECT SALES PROGRAM. IN ORDER TO SAVE YOU MONEY WE PREFER THAT YOU PURCHASE THIS AS A VIP MEMBER DIRECTLY FROM THE SELLER.

$17.99 IS THE EXACT AMOUNT THE SELLER IS ASKING (Please add $150 per item or 15% of the total whichever is greater if you go through SoundBroker.com)
To purchase or list using the services of SoundBroker.com, you must be a member of SoundBroker.com and agree to our terms and conditions. If you are a VIP-Loyalty Club Member and feel a listing is priced too high, please contact us to make a fair counteroffer (unfortunately, due to the nature of the economy, SoundBroker.com does not accept low offers from our Gold Members). Click here for details on becoming a VIP-Loyalty Club Member.

All listings on SoundBroker.com are subject to change &/or cancellation without notice. All items listed are pre-owned and priced per unit unless noted in the description. SoundBroker.com reserves the right to accept or decline any listing or purchase.
---