NEXO GEO D10 LINE ARRAY
NEXO GEO D10 LINE ARRAY SYSTEM (S#: TBD) GOOD (7-8) FEATURES:
NEXO'S 3-WAY GEO D10 VERTICAL ARRAY MODULE ACHIEVES EXCEPTIONAL MF-LF OUTPUT.
GEO D10 ADVANTAGES -
COHERENT WAVE PROPAGATION FROM NEXO'S ADVANCED GEO HYPERBOLIC WAVESOURCE
ADVANCED CONSTANT VELOCITY PROFILE OUTPUT FROM 5° WAVEFRONT GEO WAVEGUIDE
COMPRESSION MODE RIGGING SYSTEM WITH LOGARITHMIC ANGLES FROM 0.2° TO 10°
GEOSOFT2 CONFIGURABLE, ETHERSOUND™ (NETWORK) CONTROLLABLE AND GEOSITE (LASER) AIMABLE SYSTEM DEPLOYMENT
LEGENDARY NEXO SONIC INNOVATION IN AN
BOTTOM-LINE ENGINEERING FOR THEATRE TO ARENASIZED FIXED & MOBILE APPLICATIONS
FULL LISTING INCLUDES:
(16) GEO D10 3WAY VERSION
(8) ROAD CASE (FOR GEO D10)
(2) GEO D10 BUMPER
(2) GEO D10 BOTTOM BUMPER
(2) GEO D10 EXTENSION SMALL BAR
(2) GEO D10 EXTENSION LONG BAR
(2) GEO D10 GROUNDSTACK KIT
(4) NX242 DIGITAL TDCONTROLLER W/ NXTENSION ES4
(6) 4 CH HOELLSTERN DELTA 14.4 AMP 180V TO 250V EURO VERSION.
(2) AMP RACK
(2) L21-30 POWER DISTRO
COMMENTS:
THERE ARE NO SUBS WITH THIS SYSTEM. THEY WERE SOLD SEPARATELY.
READY TO WORK OR FOR A CHURCH INSTALL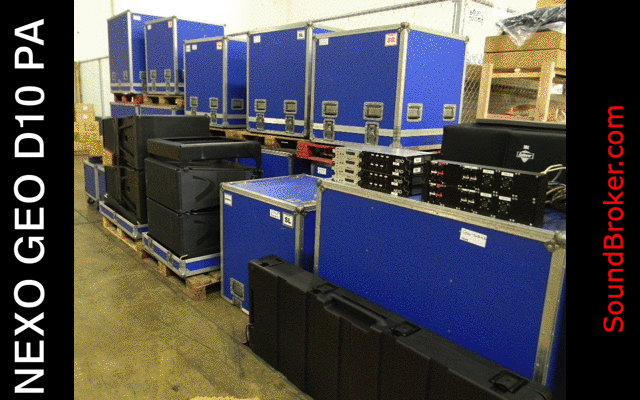 WWW.SOUNDBROKER.COM LINKING BUYERS AND SELLERS TOGETHER SINCE 1997 FOR NEW AND USED PROFESSIONAL AUDIO, LIGHTING, STAGING, PROJECTORS, AND VIDEO EQUIPMENT.