(Celebrating our 23rd anniversary linking buyers and sellers)
ID # 35785 CURRENT CATEGORY - HOIST
COFFING HOIST C6T17NZ3D (YOM: ?) (S#: TBD) AVERAGE FOR AGE (6-7)
[PRICED PER UNIT - 2 AVAILABLE AT TIME OF LISTING]
Listing last update on January 10, 2013 - Viewed 347 times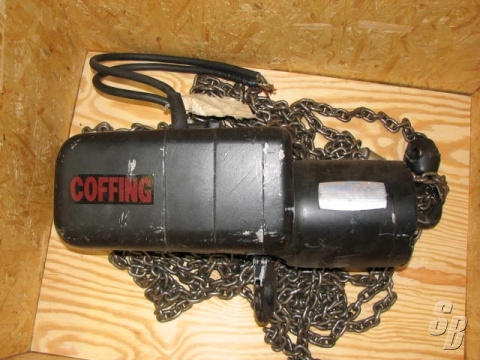 /
Click on thumbnail to enlarge
COFFING HOIST C6T17NZ3D (YOM: ?) (S#: TBD) AVERAGE FOR AGE (6-7)
[PRICED PER UNIT - 2 AVAILABLE AT TIME OF LISTING]



DESCRIPTION: COFFING HOIST C6T17NZ3D (YOM: ?) (S#: TBD) AVERAGE FOR AGE (6-7)

FEATURES: THIS HOIST RUNS ON 220 POWER. 1 TON.

EXTRAS: CHAIN, HOOK

MODIFICATIONS: NONE

HISTORY: RENTAL, PRODUCTION

COMMENTS: THE CONTROLLER AND POWER CABLES HAVE BEEN REMOVED. THIS WILL NEED TO BE ADDED TO WORK.

THIS UNIT WAS NEVER TOURED


THIS ITEM WILL ONLY BE SOLD TO INDIVIDUALS EXPERIENCED AND QUALIFIED IN THE USAGE OF HOISTS.
| | |
| --- | --- |
| ID#: | 35785 |
| Listing Type: | Standard |
| Model: | C6T17NZ3D |
| Manufacturer: | COFFING HOIST |
| Condition: | AVERAGE FOR AGE (6-7) |
| Shipping Info: | 138.00 lbs., 24X31X28 |
| Seller's Location: | NC, USA |
| Updated: | January 10, 2013 |
| M.S.R.P.: | $2,000.00 |
| Asking Price: | SOLD |
To purchase or list using the services of SoundBroker.com, you must be a member of SoundBroker.com and agree to our terms and conditions. If you are a VIP-Loyalty Club Member and feel a listing is priced too high, please contact us to make a fair counteroffer (unfortunately, due to the nature of the economy, SoundBroker.com does not accept low offers from our Gold Members). Click here for details on becoming a VIP-Loyalty Club Member.

All listings on SoundBroker.com are subject to change &/or cancellation without notice. All items listed are pre-owned and priced per unit unless noted in the description. SoundBroker.com reserves the right to accept or decline any listing or purchase.
---