(Celebrating our 23rd anniversary linking buyers and sellers)
ARCHITECTURAL ACOUSTICS XR 8600D POWERED MIXER
[PRICED PER UNIT - NEW FROM MANUFACTURER - CALL FOR AVAILABILITY]
Listing last update on July 02, 2012 - Viewed 251 times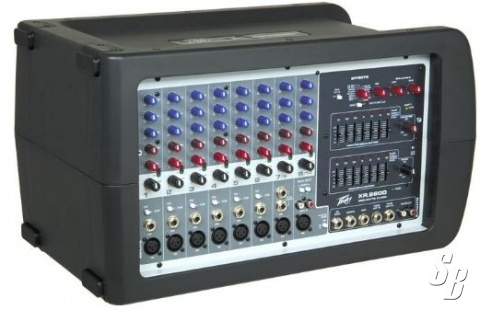 ARCHITECTURAL ACOUSTICS XR 8600D POWERED MIXER
[PRICED PER UNIT - NEW FROM MANUFACTURER - CALL FOR AVAILABILITY]



ARCHITECTURAL ACOUSTICS XR 8600D POWERED MIXER
2 X 600W @ 4 OHMS; EIGHT LOW-NOISE, LOW-Z MIC PREAMPS; TEN LINE INPUTS; THREE-BAND EQUALIZATION ON EACH CHANNEL; MONITOR SEND
ON EACH CHANNEL; EFFECTS SEND ON ALL CHANNELS; 25 DB PAD ON CHANNELS 1-6; DUAL MAIN OR MAIN/MONITOR POWER AMP MODE SWITCH;
DEDICATED SEVEN-BAND EQ FOR MAINS/MONITORS WITH FLSï½® FEEDBACK LOCATING SYSTEM; 16 DSP BASED EFFECTS WITH PARAMETER
CONTROL; SIGNAL/CLIPPING INDICATOR ON EACH CHANNEL; 48-VOLT PHANTOM POWER; DDT SPEAKER PROTECTION WITH ACTIVITY LED; MUTE
SWITCH FOR INPUT CHANNELS 1-8; COMBO NL4 AND 1/4 SPEAKER JACKS; RUGGED PLASTIC OUTER CASING
NEW WITH FULL FACTORY WARRANTY, FOB, MS USA.
To purchase or list using the services of SoundBroker.com, you must be a member of SoundBroker.com and agree to our terms and conditions. If you are a VIP-Loyalty Club Member, please Log In to see your discounted price (unfortunately, due to the nature of the economy, SoundBroker.com does not accept low offers from our Gold Members). Click here for details on becoming a VIP-Loyalty Club Member.

All listings on SoundBroker.com are subject to change &/or cancellation without notice. All items listed are pre-owned and priced per unit unless noted in the description. SoundBroker.com reserves the right to accept or decline any listing or purchase. Due to the contractual agreement we can only sell & ship this item to an address in the United States.
---