MIDAS PRO2-CC-TP + DL251 B-STOCK BUNDLE
[PRICE SHOWN FOR THE ENTIRE CONTENT OF THIS LISTING]

MIDAS PRO2-CC-TP + DL251 (YOM: ?) (S#: TBD) SUPERB (8-9) IN MIDAS ROAD CASE:
MFG REP SAMPLE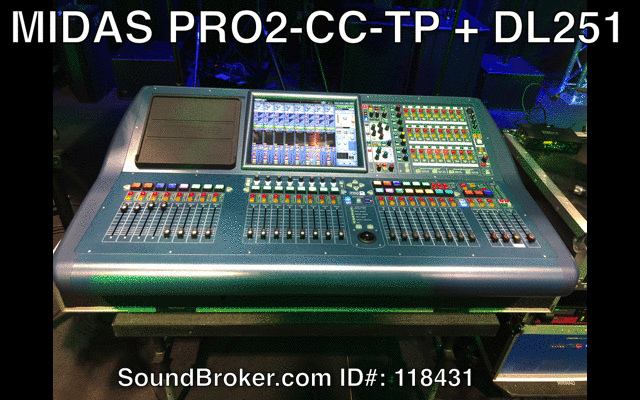 THE MIDAS PRO2 WITH TOURING GRADE ROAD CASE MAY BE THE SMALLEST AND LEAST EXPENSIVE MIDAS DIGITAL CONSOLE SO FAR, HOWEVER, IT REPRESENTS A QUANTUM LEAP FORWARD IN BOTH TECHNOLOGY AND IN CONCEPT FOR THE ART OF AUDIO MIXING.
MIDAS- PRO2-CC-TP / MIDAS PRO2 WITH TOURING GRADE ROAD CASE
FEATURES:
THIS IS AN AUDIO MIXING SYSTEM WHICH OFFERS UNPRECEDENTED LEVELS OF CONTROL INTEGRATION IN TERMS OF SPEED AND EASE OF WORKFLOW, HAS THE MOST INTUITIVE, OPERATOR-DRIVEN USER-INTERFACE YET IMAGINED, YET COSTS NO MORE THAN AN ORDINARY CONSOLE.
THE GROUNDBREAKING PRO2 FEATURES 64 SIMULTANEOUS INPUT CHANNELS WITH 8 AWARD-WINNING MIDAS MICROPHONE PREAMPLIFIERS AND 27 TIME-ALIGNED AND PHASE-COHERENT MIX BUSES.
LIKE ALL PRO SERIES CONSOLES, THE PRO2 FEATURES MANAGED LATENCY AND 40-BIT FLOATING-POINT PROCESSING PRECISION. DESIGNED FOR USE IN HIGH-PROFILE LIVE SOUND APPLICATIONS, THE PRO2 SETS A NEW STANDARD OF PERFORMANCE AND PORTABILITY IN A COMPACT DIGITAL CONSOLE FORM FACTOR.
THE PRO2 CAN BE OPERATED IN A NUMBER OF DIFFERENT WAYS, DEPENDING UPON THE EXPERIENCE, ABILITY, AND WILLINGNESS OF THE OPERATOR TO ADOPT NEW IDEAS.

IN "NORMAL" MODE, PRO2 BEHAVES IN A MANNER SIMILAR TO MANY OTHER DIGITAL CONSOLES. ENGINEERS WHO ARE NEW TO MIDAS DIGITAL CAN RELAX, ENJOY THE PRO2'S SAMPLE-SYNCHRONOUS AUDIO QUALITY, AND OPERATE THE CONSOLE FROM WELL WITHIN THEIR COMFORT ZONE.
AS AN OPERATOR BECOMES INCREASINGLY FAMILIAR WITH THE CONSOLE, THEY CAN ACTIVATE THE ADVANCED NAVIGATION FEATURES WHICH ENABLE ACCESS TO UNDREAMT-OF LEVELS OF EASE AND SPEED OF WORKFLOW ON AN AUDIO CONSOLE. DIGITAL OR ANALOGUE!
MIDAS-DL251
THE MIDAS DL251 IS A I/O UNIT FOR MIDAS CONSOLES WITH 48 MIC/LINE INPUTS AND 16 MIC/LINE OUTPUTS AND DELIVERS LEGENDARY MIDAS SOUND QUALITY UTILIZING OUR TIME-TESTED AND ROAD-PROVEN TECHNOLOGIES.
FEATURES:
THE DL251 IS THE IDEAL PARTNER TO THE MIDAS M SERIES AND PRO SERIES DIGITAL CONSOLES, ENABLING A DIGITAL SNAKE CONNECTION FROM FRONT OF HOUSE TO STAGE.
AWARD-WINNING MIDAS MICROPHONE PREAMPLIFIERS WITH 2.5 DB ANALOGUE GAIN STEPS

LIMITED TO ANALOG CONNECTIONS, THE DL251 GIVES YOU A COST-EFFECTIVE SOLUTION IF YOU DON'T NEED THE FLEXIBILITY OF MIDAS MODULAR I/O HARDWARE. YOU GET MIDI IN, OUT AND THRU - PLUS ONE ETHERNET CONTROL - STANDARD.

THREE AES50 NETWORK PORTS PROVIDING N+1 REDUNDANCY,

THREE AES50 PORTS HANDLE THE (N+1) REDUNDANT DIGITAL AUDIO INTERFACE. THE DL251 CAN BE SWITCHED BETWEEN 96KHZ AND 48KHZ FROM THE FRONT PANEL.
A REAR-PANEL "MUTE ALL OUTPUTS" BUTTON MAKES FOR EASY ON-STAGE RE-PATCHING. THE UNIT IS ALSO EQUIPPED WITH DUAL REDUNDANT PSUS.
ALL CONFIGURATION SETTINGS FOR DL251 CAN BE SET EITHER REMOTELY FROM THE MIXING CONSOLE, OR DIRECTLY VIA THE INTUITIVE AND EASY TO UNDERSTAND FRONT PANEL.
DL251 FEATURES FRONT PANEL SWITCHES FOR ALL CONFIGURATION OPTIONS WITH LED STATUS INDICATORS, WHICH PROVIDE HIGHLY VISIBLE FEEDBACK OF OPERATIONAL STATUS OVER WIDE VIEWING ANGLES AND DISTANCES.

ETHERNET CONTROL PORT AND A MIDI INTERFACE (IN, OUT, THRU),
CLEAR INDICATION IS PROVIDED OF POWER SUPPLY OUTPUT RAIL CONDITION, AES50 AND ETHERNET NETWORK CONNECTION STATUS AND ACTIVITY, CHOICE OF INTERNAL OR EXTERNAL CLOCK SYNCHRONIZATION, UNIT IDENTIFICATION AND COMMUNICATION MODE SETTING.
AND DON'T FORGET THE INCLUDED ROAD CASE!
RUGGED AND BUILT TO LAST, THE PRO2 TOURING PACK INCLUDES A PRO2-RC ROAD CASE,
CONSTRUCTED FROM RIGID MARINE GRADE PLYWOOD AND DURABLE ALUMINUM EXTRUSIONS.
COMPOSITE DENSITY FOAM PROVIDES INTERNAL SUPPORT AND SUPERIOR PROTECTION IN TRANSIT, NIGHT AFTER NIGHT, CITY AFTER CITY.
EXTRAS:
N/A
MODIFICATIONS:
N/A
HISTORY:
OPEN BOX
COMMENTS:
N/A
THIS UNIT WAS NEVER TOURED
WWW.SOUNDBROKER.COM LINKING BUYERS AND SELLERS TOGETHER SINCE 1997 FOR NEW AND USED PROFESSIONAL AUDIO, LIGHTING, STAGING, PROJECTORS, AND VIDEO EQUIPMENT.