(Celebrating our 23rd anniversary linking buyers and sellers)
DIGIDESIGN AVID VENUE PROFILE SYSTEM
[PRICED PER UNIT - 1 AVAILABLE AT TIME OF LISTING]
Listing last update on December 13, 2016 - Viewed 1209 times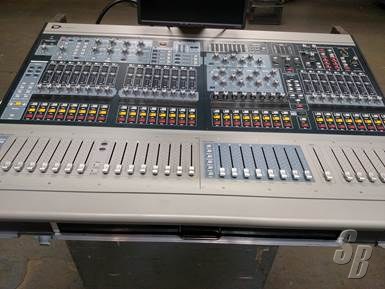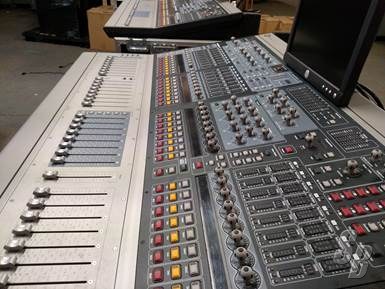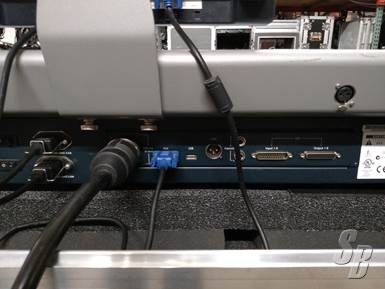 /
Click on thumbnail to enlarge
DIGIDESIGN AVID VENUE PROFILE SYSTEM
[PRICED PER UNIT - 1 AVAILABLE AT TIME OF LISTING]




AVID DIGIDESIGN VENUE PROFILE SYSTEM
SPECS PER FACTORY PART #9935-55498-02

THIS CONSOLE COMES FROM THE AIR CONDITIONED IHEART RADIO STUDIO FIXED INSTALLATION AND HAS BEEN WELL MAINTAINED.

MODIFIED TO INCLUDE BUT NOT LIMITED TO:

(1) VENUE PROFILE SURFACE (SN:0836-AMW08390038) IN A PROFESSIONAL ROAD CASE W/ DOGHOUSE AND CASTERS
(1) VENUE STAGE (SN:ARP09010009 REV 4) RACK 48 ANALOG MIC/LINE IN W/ 3EA. ANALOG 8 TOTAL OF 24 OUT
(1) VENUE FOH (APV08500008 REVK RACK W/ 3 DSP MIX ENGINE CARDS
(1) FOH SNAKE CARDS
(1) FOH LINK CABLE
(1) IO OPTION CARD
(1) ECX ETHERNET OPTION CARD
(1) 9901-65054-00 FWX FIREWIRE OPTION CARD WITH PROTOOLS (PROVIDES 32 CHANNELS OF INTEGRATED PROTOOLS RECORDING AND PLAYBACK VIA FIREWIRE

(1) VIDEO MONITOR AND MOUNTING BRACKET
(1) TRACKBALL MOUNTING BRACKET

ALL NECESSARY SOFTWARE INCLUDES ALL FACTORY PLUG INS AND ILOK (UNREGISTERED)
CONTROL SURFACES, RACKS CONFIGURED W/REDUNDANT POWER SUPPLIES (PSU'S)

AVID VENUE PROFILE USED BUT COMES WITH 1 MONTH (SAME AS NEW) FULL FACTORY WARRANTY

SOUNDBROKER COMMENTS:
* PLEASE NOTE PHOTOS ARE A REPRESENTATIVE SAMPLE
* ACTUAL CONSOLE PHOTOS AVAILABLE PRIOR TO SHIPMENT.
* CONSOLE CAN BE CONFIGURED WITH EXTRA CARDS FOR ADDITIONAL COST
* VIP-LOYALTY CLUB MEMBERS HAVE PRIORITY

SEE CURRENT AVID VENUE PROFILES, MADI OPTION CARDS, AND ALL THINGS AVID DIGIDESIGN FOR SALE BY CLICKING HERE NOW

WWW.SOUNDBROKER.COM LINKING BUYERS AND SELLERS TOGETHER SINCE 1997 FOR NEW AND USED PROFESSIONAL AUDIO, LIGHTING, STAGING, PROJECTORS, AND VIDEO EQUIPMENT.
| | |
| --- | --- |
| ID#: | 94371 |
| Listing Type: | Jan's Pick |
| Model: | PROFILE |
| Manufacturer: | AVID, DIGIDESIGN (AVID) |
| Condition: | SUPERB (8-9) |
| Shipping Info: | 0.00 lbs., |
| Seller's Location: | NV, USA |
| Updated: | December 13, 2016 |
| M.S.R.P.: | $60,345.00 |
| Asking Price: | SOLD |
To purchase or list using the services of SoundBroker.com, you must be a member of SoundBroker.com and agree to our terms and conditions. If you are a VIP-Loyalty Club Member and feel a listing is priced too high, please contact us to make a fair counteroffer (unfortunately, due to the nature of the economy, SoundBroker.com does not accept low offers from our Gold Members). Click here for details on becoming a VIP-Loyalty Club Member.

All listings on SoundBroker.com are subject to change &/or cancellation without notice. All items listed are pre-owned and priced per unit unless noted in the description. SoundBroker.com reserves the right to accept or decline any listing or purchase.
---