(Celebrating our 23rd anniversary linking buyers and sellers)
EAW BH760 BLACK SUBWOOFER
[PRICED PER UNIT - NEW FROM MANUFACTURER - CALL FOR AVAILABILITY]
Listing last update on July 06, 2012 - Viewed 347 times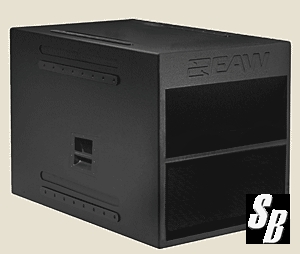 EAW BH760 BLACK SUBWOOFER
[PRICED PER UNIT - NEW FROM MANUFACTURER - CALL FOR AVAILABILITY]

EAW BH760 BLACK. TWO 12 INCH HORN LOADED LF, EACH DRIVER HAS ITS OWN CONNECTIONS ON THE INPUT PANEL, SINGLE AMP OR DUAL AMP, NEW WITH FULL FACTORY WARRANTY, FOB MA.
To purchase or list using the services of SoundBroker.com, you must be a member of SoundBroker.com and agree to our terms and conditions. If you are a VIP-Loyalty Club Member, please Log In to see your discounted price (unfortunately, due to the nature of the economy, SoundBroker.com does not accept low offers from our Gold Members). Click here for details on becoming a VIP-Loyalty Club Member.

All listings on SoundBroker.com are subject to change &/or cancellation without notice. All items listed are pre-owned and priced per unit unless noted in the description. SoundBroker.com reserves the right to accept or decline any listing or purchase. Due to the contractual agreement we can only sell & ship this item to an address in the United States.
---