12 EA. D&B M4 WEDGES
Q1/QSUB SIDEFILLS (CAN BE DOUBLED FOR EXTRA COST)
QSUB TO ADD TO WEDGE FOR DRUMFILL.
9 D6 AMPLIFIER WITH RACK MOUNT SPEAKER INTERFACE.
SELLER COMMENTS:
I ALSO HAVE A LARGE SIDEFILL OPTION AS WELL, IT'S MUCH MORE IMPRESSIVE, BUT ADDS ADDITONAL COSTS TO THE PRICE OF THE SYSTEM.
WE WILL ONLY SELL THIS AS A TURNKEY SYSTEM AND WE HAVE ADDITIONAL OPTIONS AVAILABLE.
THE BASIC SYSTEM IS BEING SOLD AT A VERY REASONABLE PRICE. HOWEVER, IF SOMEONE WANTS IT READY FOR SYSTEM OF A DOWN (BIGGER AND LOUDER), IT'LL COST MORE. DOUBLE SIDEFILLS AND DRUM SUBS AND MORE WEDGES, SAME AMP RACK ('DOUBLE OPTION' FOR THE SIDEFILLS. 2 QSUBS AND 2 Q1 PER SIDE) .
I WILL ONLY SELL THE SPEAKERS WITH THE AMPS. THERE'S 18 CHANNELS OF POWER IN THE RACK. THIS SYSTEM WAS INSTALLED IN A VENUE FOR SEVERAL YEARS, NEVER TOURED AND ALWAYS WELL MAINTAINED.
THERE'S NO CASES FOR THIS SYSTEM BUT THERE ARE 2 EA. SKIDS, EACH HOLDS 6 M4 WEDGES.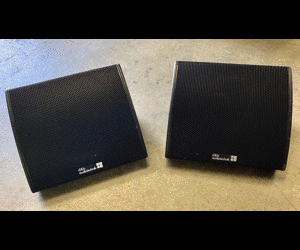 WWW.SOUNDBROKER.COM
LINKING BUYERS AND SELLERS TOGETHER SINCE 1997 FOR NEW AND USED PROFESSIONAL AUDIO, LIGHTING, STAGING, PROJECTORS, AND VIDEO EQUIPMENT.