CHRISTIE HD7K-J 3-CHIP DLP PROJECTOR
[PRICED PER UNIT - 2 AVAILABLE AT TIME OF LISTING]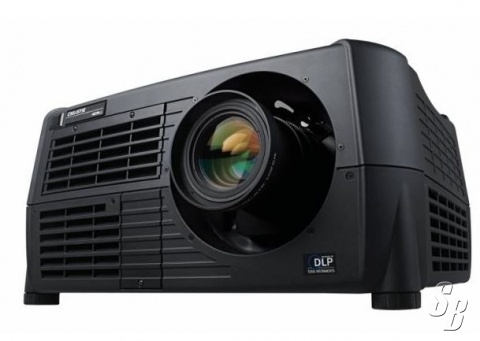 CHRISTIE HD7K-J 3-CHIP DLP PROJECTOR

CHRISTIE HD7K-J 3-CHIP DLP PROJECTOR
PART NUMBER: 132-005106-XX
UPGRADE TO 3D AVAILABLE FOR AN ADDITIONAL CHARGE.
TECHNOLOGY 3-CHIP DLP
RESOLUTION HD (1920 X 1080)
BRIGHTNESS
6200 ANSI (6850 CENTER) LUMENS @ 220V
4650 ANSI (5100 CENTER) LUMENS @ 110V
CONTRAST 1600-2000:1 FULL FIELD | 650:1 ANSI
ILLUMINATION 1.0KW CERMAXョ XENON PRE-ALIGNED LAMP MODULE
LAMP LIFE 1500 HOURS TYPICAL LAMP LIFE

MANUFACTURER'S WARRANTY: 2 YEARS

THE ITEM LISTED ABOVE IS CERTIFIED RECONDITIONED. IT IS FULLY FUNCTIONAL AND IN 100% WORKING ORDER. IN SHORT, IT IS A GREAT WAY TO SAVE MONEY.

PLEASE NOTE: WHEN ORDERING THIS ITEM, UPON SOUNDBROKER.COM ISSUING YOU OUR INVOICE, WE NEED TO RECEIVE YOUR PAYMENT IMMEDIATELY IN ORDER TO INSURE THAT WE WILL BE ABLE TO COMPLETE THIS ORDER. WE ARE PREPARED TO PLACE YOUR ORDER WITH THE SELLER UPON RECEIPT OF YOUR PAYMENT, HOWEVER BECAUSE THERE IS A LIMITED AMOUNT OF THESE ITEMS AVAILABLE, IT IS ON A FIRST COME FIRST SERVE BASIS AND WE RESERVE THE RIGHT TO REFUND YOUR TOTAL PAYMENT IN THE UNLIKELY EVENT, THAT THEY ARE NO LONGER AVAILABLE AT THE TIME WE PLACE THE ORDER ON YOUR BEHALF.
---
To purchase or list using the services of SoundBroker.com, you must be a member of SoundBroker.com and agree to our terms and conditions. If you are a Platinum Member and feel a listing is priced too high, please contact us to make a fair counteroffer (unfortunately, due to the nature of the economy, SoundBroker.com does not accept low offers from our free Gold Members). Click here for details on becoming a Platinum Member.

All listings on SoundBroker.com are subject to change &/or cancellation without notice. All items listed are pre-owned and priced per unit unless noted in the description. SoundBroker.com reserves the right to accept or decline any listing or purchase.