(Celebrating our 20th anniversary linking buyers and sellers)
STAGELINE SL50 2015
[PRICED PER UNIT - 1 AVAILABLE AT TIME OF LISTING]
Viewed 2231 times
Click on thumbnail to enlarge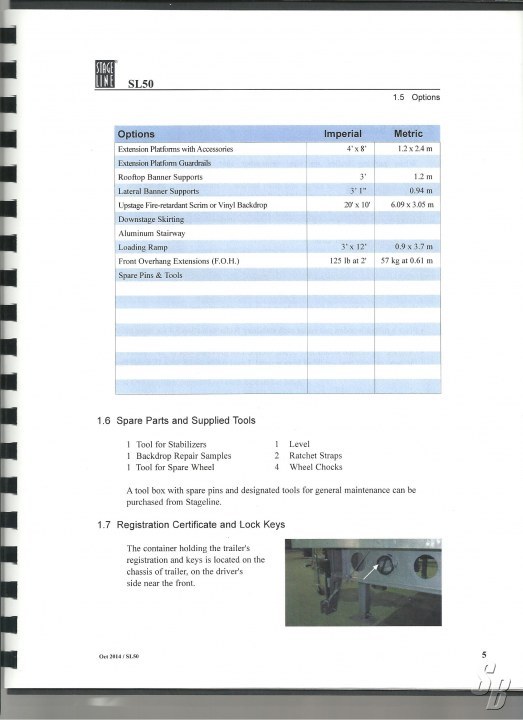 /
STAGELINE SL50 2015
[PRICED PER UNIT - 1 AVAILABLE AT TIME OF LISTING]




STAGELINE SL50 2015

WHAT MAKES A STAGELINE SL50 WORTH ACQUIRING?
WEIGHT SAVING BENEFITS MAKE ALUMINUM THE BEST CHOICE FOR A STAGE OF THIS SIZE. EXTRUSIONS, RIVETING, AND EXPERT WELDING ARE ALL COMBINED TO BUILD A STATE OF THE ART STAGELINE MOBILE STAGE.
SEE MORE AT MFG SPECS WEB PAGE LINK


MFG INFORMATION: STAGELINE SL50 PORTABLE STAGE 20' X 16' (6M X 5M) - NEW WITH FACTORY WARRANTY

ROOF STRUCTURE AND RIGGING:
(1) BUILT-IN TRUSS / ALUMINUM 5 CM (2'') DIAMETER TUBE TRUSSING
(6) MOVABLE RIGGING POINTS
(3) RIGGING BARS / 3.05 M (10')
(2) ALUMINUM SIDE OVERHANG RIGGING BEAMS (0.61 M (2') EXTENSION BEAM)
(4) ALUMINUM CORNER POSTS -FIBERGLASS ROOF MOLDED TO ALUMINUM STRUCTURE
RIGGING LOAD CAPACITY TESTED AT TWICE THE WORKING LOAD
GALVANIZED STEEL MAST

* LIFTING MECHANISM
* STAGE ROOF DEPLOYMENT
* (8) GAZ SPRING CYLINDERS

STAGE:
DECK: GRAY PLYWOOD / QUICK LEVELLING LEGS
MULTIFUNCTIONAL EXTRUDED ALUMINUM DECK FRAME
(4) GUARDRAILS / ALUMINUM
SUPPORT BRACKETS BUILT-IN FOR STAGELINE PLATFORMS
STAIRWAY / ALUMINUM - 0.9 M (3') WIDE
(8) RUBBER PADS

TRAILER:
RETRACTABLE DRAWBAR WITH BALL HITCH
(1) LEAF SPRING AXLE (DOUBLE AXLE)
(2) TIRES + 1 SPARE WHEEL (ALUMINIUM HUBS)
HYDRAULIC BRAKES ON ALL WHEELS
EMERGENCY BREAKAWAY SYSTEM
STORAGE COMPARTMENT
STORAGE BUMPERS
(6) STORAGE TIE-DOWNS
STORAGE WEIGHT CAPACITY
STORAGE SPACE CAPACITY

* STANDARDS
* APPLICABLE REGULATIONS
* VERTICAL LOAD
* WIND RESISTANCE

CERTIFICATION:
- CERTIFICATE STAMPED BY PROFESSIONAL ENGINEERS
- ALL TECHNICAL DOCUMENTS SUPPLIED
- 24 H/D SERVICE SUPPORT

WWW.SOUNDBROKER.COM CELEBRATING OUR 20TH ANNIVERSARY LINKING BUYERS AND SELLERS TOGETHER SINCE 1997 FOR NEW AND USED PROFESSIONAL AUDIO, LIGHTING, STAGING, PROJECTORS, AND VIDEO EQUIPMENT.
| | |
| --- | --- |
| ID#: | 95361 |
| Listing Type: | Standard |
| Model: | SL50 |
| Manufacturer: | STAGELINE |
| Condition: | SUPERB (8-9) |
| Shipping Info: | 0.00 lbs., |
| Seller's Location: | SD, USA |
| Updated: | February 04, 2017 |
| M.S.R.P.: | $0.00 |
| Asking Price: | SOLD |
To purchase or list using the services of SoundBroker.com, you must be a member of SoundBroker.com and agree to our terms and conditions. If you are a VIP-Loyalty Club Member and feel a listing is priced too high, please contact us to make a fair counteroffer (unfortunately, due to the nature of the economy, SoundBroker.com does not accept low offers from our Gold Members). Click here for details on becoming a VIP-Loyalty Club Member.

All listings on SoundBroker.com are subject to change &/or cancellation without notice. All items listed are pre-owned and priced per unit unless noted in the description. SoundBroker.com reserves the right to accept or decline any listing or purchase.
---