Welcome to SoundBroker.com's Direct 2 Seller store. Items listed here can be bought and sold directly between buyers and sellers without SoundBroker.com's involvement thus eliminating our fees and saving you money. URGENT NOTICE: Buying using this service you take all risks related to buying or selling these items. In order to limit your risk, for a 10% fee (Fee Schedule), you can opt into SoundBroker.com's Secure Transaction Service whereas you pay SoundBroker.com for the item and we'll hold onto the money for the seller until the transaction is complete or click on the link below to return to SoundBroker.com and purchase the item using our normal methods.
Fee Schedule
•
Disclaimer
ID # 60063 DIRECT TO SELLER CURRENT CATEGORY - VIDEO: PROJECTION
CHRISTIE MIRAGE HD10K-M 3D DLP PROJECTOR
[PRICED PER UNIT - 4 AVAILABLE AT TIME OF LISTING]
Viewed 367 times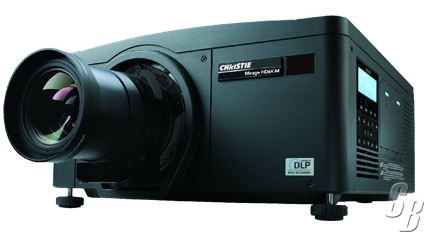 CHRISTIE MIRAGE HD10K-M 3D DLP PROJECTOR

CHRISTIE MIRAGE HD10K-M 3D DLP PROJECTOR
PART NUMBER: 118-051107-XX

THE CHRISTIE MIRAGE HD10K-M DELIVERS VISUALLY STUNNING 3D FOR HOME THEATRE AND ENTERTAINMENT, MUSEUMS AND EDUCATION, SCIENTIFIC RESEARCH, MANUFACTURING, OIL AND GAS EXPLORATION AND ANYTHING IN BETWEEN. OFFERING COMPLETE COMPATIBILITY WITH TODAY担 3D HOME ENTERTAINMENT REQUIREMENTS, THE CHRISTIE MIRAGE HD10K-M IS READY FOR BLU-RAY 3D VIDEO, PS3 AND OTHER GAMING CONSOLES AND MEETS THE MANDATORY 3D SPEC FOR HDMI V1.4A.



TECHNOLOGY 3-CHIP DLPョ
RESOLUTION 1920 X 1080 HD
BRIGHTNESS 10,000 ANSI LUMENS
CONTRAST 650:1 ANSI / 2,500-10,000:1 FOFO
ILLUMINATION DUAL OSRAMョ PVIPョ 350W LAMPS
LAMP LIFE (TYPICAL) 1500 HRS @350W, 2000 HRS @300W
HEIGHT 10.2" (259 MM)
WIDTH 19.7" (500 MM)
DEPTH 22.1" (561 MM)
WEIGHT 55 LB (25 KG)

MANUFACTURER'S WARRANTY: 2 YEARS

THE ITEM LISTED ABOVE IS CERTIFIED RECONDITIONED. IT IS FULLY FUNCTIONAL AND IN 100% WORKING ORDER. IN SHORT, IT IS A GREAT WAY TO SAVE MONEY.

PLEASE NOTE: WHEN ORDERING THIS ITEM, UPON SOUNDBROKER.COM ISSUING YOU OUR INVOICE, WE NEED TO RECEIVE YOUR PAYMENT IMMEDIATELY IN ORDER TO INSURE THAT WE WILL BE ABLE TO COMPLETE THIS ORDER. WE ARE PREPARED TO PLACE YOUR ORDER WITH THE SELLER UPON RECEIPT OF YOUR PAYMENT, HOWEVER BECAUSE THERE IS A LIMITED AMOUNT OF THESE ITEMS AVAILABLE, IT IS ON A FIRST COME FIRST SERVE BASIS AND WE RESERVE THE RIGHT TO REFUND YOUR TOTAL PAYMENT IN THE UNLIKELY EVENT, THAT THEY ARE NO LONGER AVAILABLE AT THE TIME WE PLACE THE ORDER ON YOUR BEHALF.

ID#:
DS60063
Listing Type:
Direct Discount Available
Model:
HD10KM
Manufacturer:
CHRISTIE DIGITAL
Condition:
MFG B STOCK
Shipping Info:
0.00 lbs.,
Seller's Location:
CA, USA
Updated:
June 27, 2013
M.S.R.P.:
$0.00
Offered at:

$28,825.00


Login for Discount
PLEASE NOTE: VIP-LOYALTY CLUB MEMBERS MAY HAVE THE OPTION TO BUY THIS DIRECTLY FROM THE SELLER FOR A MINIMUM OF $100 LESS THEN THE PRICE LISTED HERE
SEE DETAILS
---
To purchase or list using the services of SoundBroker.com, you must be a member of SoundBroker.com and agree to our terms and conditions. If you are a VIP-Loyalty Club Member and feel a listing is priced too high, please contact us to make a fair counteroffer (unfortunately, due to the nature of the economy, SoundBroker.com does not accept low offers from our free Gold Members). Click here for details on becoming a VIP-Loyalty Club Member.

All listings on SoundBroker.com are subject to change &/or cancellation without notice. All items listed are pre-owned and priced per unit unless noted in the description. SoundBroker.com reserves the right to accept or decline any listing or purchase.