CHRISTIE DW3K3-CHIP 720 HD DLP 5,000 LUMEN DIGITAL PROJECTOR
[PRICED PER UNIT - 2 AVAILABLE AT TIME OF LISTING]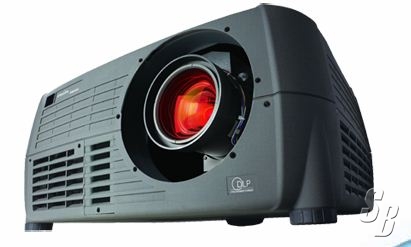 CHRISTIE DW3K3-CHIP 720 HD DLP 5,000 LUMEN DIGITAL PROJECTOR

CHRISTIE DW3K 3-CHIP 720 HD DLP 5,000 LUMEN DIGITAL PROJECTOR PART NUMBER: 38-DHD103-XX

IMAGE
5,000 ANSI LUMENS @ 208 VAC (ア 10%)
4,000 ANSI LUMENS @ 110 VAC (ア 10%)
90% BRIGHTNESS UNIFORMITY ACROSS THE SCREEN
CONTRAST
1600-2000:1 FULL FIELD
DISPLAY TECHNOLOGY AND RESOLUTION
3-CHIP 0.8" DARKCHIP2 DMD
HD2 (1280 X 720) RESOLUTION
NATIVE 16:9 ASPECT RATIO
INPUT SIGNAL COMPATIBILITY
VGA THROUGH TO QXGA (2048 X 1536)
ACCEPTS ALL CURRENT HDTV/DTV FORMATS
MULTI-STANDARD VIDEO DECODER
HORIZONTAL AND VERTICAL SCALING, ALL INPUTS
SCAN RATES
HORIZONTAL - 15 KHZ TO 120 KHZ
VERTICAL - 23.97 HZ TO 150 HZ


MANUFACTURER'S WARRANTY: 2 YEARS


PLEASE NOTE: WHEN ORDERING THIS ITEM, UPON SOUNDBROKER.COM ISSUING YOU OUR INVOICE, WE NEED TO RECEIVE YOUR PAYMENT IMMEDIATELY IN ORDER TO INSURE THAT WE WILL BE ABLE TO COMPLETE THIS ORDER. WE ARE PREPARED TO PLACE YOUR ORDER WITH THE SELLER UPON RECEIPT OF YOUR PAYMENT, HOWEVER BECAUSE THERE IS A LIMITED AMOUNT OF THESE ITEMS AVAILABLE, IT IS ON A FIRST COME FIRST SERVE BASIS AND WE RESERVE THE RIGHT TO REFUND YOUR TOTAL PAYMENT IN THE UNLIKELY EVENT, THAT THEY ARE NO LONGER AVAILABLE AT THE TIME WE PLACE THE ORDER ON YOUR BEHALF.
---
To purchase or list using the services of SoundBroker.com, you must be a member of SoundBroker.com and agree to our terms and conditions. If you are a Platinum Member and feel a listing is priced too high, please contact us to make a fair counteroffer (unfortunately, due to the nature of the economy, SoundBroker.com does not accept low offers from our free Gold Members). Click here for details on becoming a Platinum Member.

All listings on SoundBroker.com are subject to change &/or cancellation without notice. All items listed are pre-owned and priced per unit unless noted in the description. SoundBroker.com reserves the right to accept or decline any listing or purchase.