STAGE PEAKDED ROOF
[PRICE SHOWN FOR THE ENTIRE CONTENT OF THIS LISTING]
Viewed 6313 times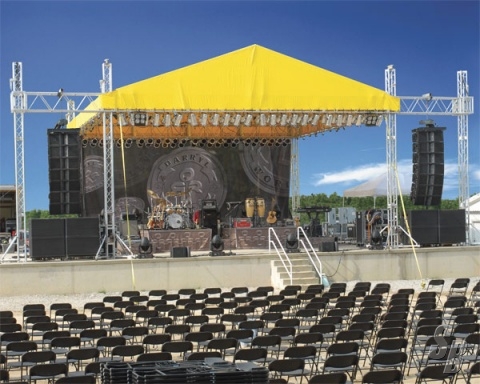 Asking Price:
SOLD
Inquire About Sold Listing
View Similar Listings
STAGE PEAKDED ROOF
[PRICE SHOWN FOR THE ENTIRE CONTENT OF THIS LISTING]



ROOF:
THE SIZE OF THE ROOF IS 32' X 32' AND IS DESIGNED AND BUILT BY PENN FABRICATION. IT IS ALL ALUMINUM BOX SINGLE HUNG PRT (PRE-RIGGED TRUSS UNLOADED)

THE SINGLE HUNG IS RUN AROUND THE SIDES AS WELL AS UPSTAGE AND DOWNSTAGE


PEAKED ROOF STRUCTURE INCLUDES MANUFACTURED BY PENN FABRICATION:
ANGLE PLATES, RIBS, CENTER BRACES, PEAKS)

SPECIAL CONSTRUCTION TO ALLOW FOR THE USE OF EITHER SINGLE OR DOUBLE HUNG TRUSS UPSTAGE AND DOWN

14 - SINGLE HUNG TRUSS BY PENN FABRICATION (UNLOADED BUILT FOR FULL SIZE PAR 64 CANS)

2 - HEAVY DUTY SINGLE HUNG STYLE TRUSS BY PENN FABRICATION FOR SPEAKER WINGS

6 TOWERS 11" BOX HVY DUTY LADDER TRUSS (12 PCS)

6 - BASE TOWER SECTIONS 11" BOX TRUSS WITH HAND WINCHES 4 W/ HAND WINCHES, 2 WITHOUT)

8 - TOP PLATES FOR MAIN ROOF TOWERS (4 WITH 4" SHEAVES, 4 WITH 2")

4 - TOWER BASES STEEL 6' X 6' W/5 ADJUSTABLE FEET (LEVELS TOWERS ON UNEVEN TERRAIN)

16 - HVY DUTY STEEL 5' OUTRIGGERS

6 - HVY DUTY TOWER SAFETY BRAKES

6 - ANGLE PLATES ONE FOR EACH TOWER

6 CARRIAGES DRILLED FOR SINGLE AND DOUBLE HUNG

20 ALUMINUM OUTRIGGERS SETS ( 4 PER ROOF TOWERS, 2 PER EACH SPEAKER TOWER)

10 GUY WIRE KITS CABLES, TRUSS CLAMPS, GROUND STAKES

6 10" X 10" X 12' ALUM TRI TRUSS SIDE RIBS FOR ROOF
4 11" X 11" CORNER BLOCKS FOR MAKING FLAT ROOFS
200 TRUSS BOLTS
100 TRUSS INSERTS
16 SPECIAL ANGLE CLAMPS MAKES IT EASIER TO BOLT TRUSS TO CARRIAGES

ROOF SKIN
1 18 OUNCE VINYL ADJUSTABLE COUNTERED - YELLOW
SIZE: 32 X 32
ALSO ADJUSTS DOWN TO 32' X 24' VIA THE REMOVEABLE 8' ROOF SKIN PANEL

ADD ANY SIZE INSERT PANEL TO THE ROOF AND MAKE THE DEPTH AS DEEP AS YOU WANT IT.


SPECIAL NOTE: YOU CAN ALSO CONFIGURE THIS TRUSS AND TOP SKIN TO BUILD A LARGE 24' X 16' OUTDOOR MOVIE SCREEN AND HOLD OUTDOOR MOVIE NIGHTS, OR BUILD A VARIETY OF FLAT ROOFS.

LOTS OF EXTRAS
OVER $60K INVESTED - PRICED TO SELL


CAN DELIVER AND INSTRUCT.

ENTRIRE ROOF GOES UP WITH 4-5 GUYS IN ABOUT 5-6 HRS.

LOOKS FANTASTIC - VERY PROFESSIONAL APPEARANCE
| | |
| --- | --- |
| ID#: | 37938 |
| Listing Type: | Standard |
| Model: | 32' X 32' |
| Manufacturer: | PENN FAB |
| Condition: | GOOD (7-8) |
| Shipping Info: | 0.00 lbs., |
| Seller's Location: | IN, USA |
| Updated: | January 25, 2013 |
| M.S.R.P.: | $65,000.00 |
| Asking Price: | SOLD |
---
To purchase or list using the services of SoundBroker.com, you must be a member of SoundBroker.com and agree to our terms and conditions. If you are a VIP-Loyalty Club Member and feel a listing is priced too high, please contact us to make a fair counteroffer (unfortunately, due to the nature of the economy, SoundBroker.com does not accept low offers from our free Gold Members). Click here for details on becoming a VIP-Loyalty Club Member.

All listings on SoundBroker.com are subject to change &/or cancellation without notice. All items listed are pre-owned and priced per unit unless noted in the description. SoundBroker.com reserves the right to accept or decline any listing or purchase.