4 EA. EAW KF760 3-WAY, FULL RANGE, LINE ARRAY LOUDSPEAKER
[PRICE SHOWN FOR THE ENTIRE CONTENT OF THIS LISTING]
Viewed 1239 times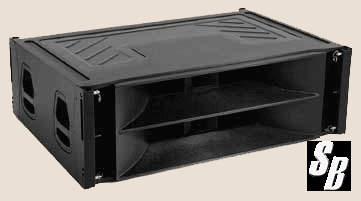 Asking Price:
SOLD
Inquire About Sold Listing
View Similar Listings
4 EA. EAW KF760 3-WAY, FULL RANGE, LINE ARRAY LOUDSPEAKER
[PRICE SHOWN FOR THE ENTIRE CONTENT OF THIS LISTING]



I HAVE 4 CERTIFIED PRE-OWNED EAW KF760 WITH CASTER PALLETS IN EXCELLENT CONDITION (WITH WARRANTY) PRICE INCLUDES CASTER PALLETS.

THESE WOULD SHIP TWO PER PALLET RIDING ON THE CASTER PALLETS, WRAPPED WELL, AND STRAPPED DOWN.

THE KF760 SERIES IS COMPRISED OF THE KF760 LONG-THROW MODULE AND THE KF761 NEAR-FIELD MODULE. BOTH LOUDSPEAKERS USE ADVANCED DIVERGENCE SHADING TO PROVIDE UNIFORM SOUND COVERAGE FROM DIRECTLY BENEATH THE ARRAY OUT TO HUNDREDS OF FEET WITHOUT COMPLEX SIGNAL PROCESSING. VERTICAL COVERAGE FOR THE ARRAY IS SET BY VARYING THE REAR SPLAY OF THE ENCLOSURES, LEAVING THE FRONTS TIGHT-PACKED.

THIS CONFIGURATION PRODUCES A CONTINUOUS, COHERENT WAVEFRONT FROM THE ARRAY, PROJECTING EXTENDED RANGE, HIGH-RESOLUTION SOUND OVER ITS FULL COVERAGE AREA. THIS HIGH-OUTPUT TOURING SYSTEM IS SCALABLE FROM VENUES UNDER
1,000 SEATS TO STADIUMS. TWO 12 INCH LF, TWO 10 INCH HORN-LOADED MF, TWO 2 INCH EXIT HF;

INCLUDES SET OF FOUR QUICK-RELEASE PINS FOR SUSPENSION; TRI-AMP ONLY (DSP). COMES WITH LIMITED FACTORY WARRANTY, FOB MA.
| | |
| --- | --- |
| ID#: | 65369 |
| Listing Type: | Standard |
| Model: | KF760 |
| Manufacturer: | EAW |
| Condition: | LIKE NEW (9-10) |
| Shipping Info: | 237.00 lbs., 14.5 H X 45.0 W X 31.0 D |
| Seller's Location: | MA, USA |
| Updated: | March 19, 2013 |
| M.S.R.P.: | $10,150.00 |
| Asking Price: | SOLD |
---
To purchase or list using the services of SoundBroker.com, you must be a member of SoundBroker.com and agree to our terms and conditions. If you are a VIP-Loyalty Club Member and feel a listing is priced too high, please contact us to make a fair counteroffer (unfortunately, due to the nature of the economy, SoundBroker.com does not accept low offers from our free Gold Members). Click here for details on becoming a VIP-Loyalty Club Member.

All listings on SoundBroker.com are subject to change &/or cancellation without notice. All items listed are pre-owned and priced per unit unless noted in the description. SoundBroker.com reserves the right to accept or decline any listing or purchase.