AVOLITES AVO TITAN MOBILE
[PRICED PER UNIT - 1 AVAILABLE AT TIME OF LISTING]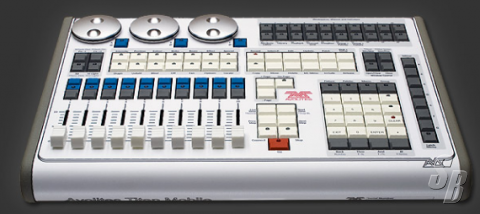 Asking Price:
SOLD
Inquire About Sold Listing
View Similar Listings
AVOLITES AVO TITAN MOBILE
[PRICED PER UNIT - 1 AVAILABLE AT TIME OF LISTING]



AVOLITES AVO TITAN MOBILE.

TITAN MOBILE THE AWESOME POWER OF TITAN IN IT担 MOST CONCENTRATED FORM!

AVOLITES TITAN MOBILE BINDS THE AWESOME POWER OF TITAN SOFTWARE WITH A COMPACT AND LIGHTWEIGHT UNIT THAT CONNECTS TO YOUR LAPTOP TO PRODUCE A FULLY FEATURED MOVING LIGHT CONTROL SYSTEM.

AS OUR INDUSTRY 賎REENS UP AND WISES UP, MANY SHOWS HAVE BECOME 詮ESTIVAL TOURS WHERE THE ONLY THINGS TO BE FREIGHTED AROUND ARE THE BAND, DESIGNERS AND FLEXIBLE CONTROL SYSTEMS.

THE CONTROL SURFACE OF TITAN MOBILE COUPLED WITH AVOLITES TOURING EXPERIENCE ENABLES DESIGNERS TO 銭EEP IT LIVE WHILE PRESERVING THEIR SHOWS VISUAL INTEGRITY.

LIVE PLAYBACKS, SOLO AND FLASH BUTTONS, USER PROGRAMMABLE BUTTONS AND ATTRIBUTE CONTROLLERS ENABLE FAST AND ACCURATE SHOW PROGRAMMING IN A FLIGHT FRIENDLY PACKAGE. AVOLITES TITAN MOBILE CATERING TO THE NEEDS OF OUR EVER CHANGING INDUSTRY.

ACCURATE PHOTOS AVAILABLE PRIOR TO PURCHASE
| | |
| --- | --- |
| ID#: | 65245 |
| Listing Type: | Standard |
| Model: | AVO TITAN MOBILE |
| Manufacturer: | AVOLITE |
| Condition: | MFG REP SAMPLES |
| Shipping Info: | 0.00 lbs., |
| Seller's Location: | NY, USA |
| M.S.R.P.: | $5,400.00 |
| Asking Price: | SOLD |
---
To purchase or list using the services of SoundBroker.com, you must be a member of SoundBroker.com and agree to our terms and conditions. If you are a Platinum Member and feel a listing is priced too high, please contact us to make a fair counteroffer (unfortunately, due to the nature of the economy, SoundBroker.com does not accept low offers from our free Gold Members). Click here for details on becoming a Platinum Member.

All listings on SoundBroker.com are subject to change &/or cancellation without notice. All items listed are pre-owned and priced per unit unless noted in the description. SoundBroker.com reserves the right to accept or decline any listing or purchase.