ID # 65885 CURRENT CATEGORY - LIGHTING
AVOLITES TIGER TOUCH
[PRICED PER UNIT - 2 AVAILABLE AT TIME OF LISTING]
Viewed 2643 times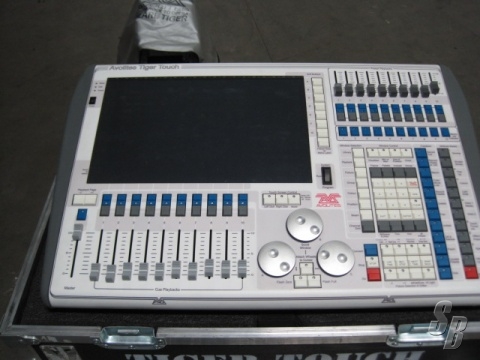 Asking Price:
SOLD
Inquire About Sold Listing
View Similar Listings
AVOLITES TIGER TOUCH
[PRICED PER UNIT - 2 AVAILABLE AT TIME OF LISTING]



AVOLITES TIGER TOUCH (YOM: 2011) (S#: TBD) GOOD (7-8)

FEATURES: N/A

EXTRAS: INCLUDED ROADCASE, DUST COVER, LITTLELITE AND POWERCABLE

MODIFICATIONS: N/A

HISTORY: RENTALS

COMMENTS: NO PROBLEMS OR ISSUES WHATSOEVER MOST OF OUR GEAR IS DEFAULT LISTED TO GOOD. EXTERIOR OF THE ROAD CASE HAS SOME SCUFFS AND SCRAPES. CONSOLE ITSELF LOOKS FABULOUS. ALONG WITH ROADCASE AND CONSOLE PACKAGE INCLUDE CABLES, DUST COVER AND LITTLIES. ALL USED GEAR IS THOROUGHLY INSPECTED / TEST PRIOR TO SHIPMENT TO ENSURE IT IS IN THE BEST POSSIBLE CONDITION AND THEN CARRIES A 60 WARRANTY WHICH MEANS WE WILL WORK WITH YOUR CUSTOMER TO TROUBLESHOOT AND HARDWARE PROBLEMS THAT MAY ARISE DURING THAT TIME IN ADDITION TO PROVIDING AN PARTS THAT MAY BE REQUIRED. IF THE SITUATION WARRANTS WE WILL REPLACE THE UNIT WITH ANOTHER. LIMITED QUANTITY AVAILABLE.

THIS UNIT WAS TOURED
| | |
| --- | --- |
| ID#: | 65885 |
| Listing Type: | Standard |
| Model: | TIGER TOUCH |
| Manufacturer: | AVOLITES |
| Condition: | GOOD (7-8) |
| Shipping Info: | 0.00 lbs., |
| Seller's Location: | NY, USA |
| Updated: | May 24, 2014 |
| M.S.R.P.: | $0.00 |
| Asking Price: | SOLD |
---
To purchase or list using the services of SoundBroker.com, you must be a member of SoundBroker.com and agree to our terms and conditions. If you are a VIP-Loyalty Club Member and feel a listing is priced too high, please contact us to make a fair counteroffer (unfortunately, due to the nature of the economy, SoundBroker.com does not accept low offers from our Gold Members). Click here for details on becoming a VIP-Loyalty Club Member.

All listings on SoundBroker.com are subject to change &/or cancellation without notice. All items listed are pre-owned and priced per unit unless noted in the description. SoundBroker.com reserves the right to accept or decline any listing or purchase.